An inspiring collection of little things quotes that'll inspire you to be more grateful and remind you to not take small things and moments for granted.
In today's day and age, We are constantly chasing more and bigger things that we end being guilty of taking little things and moments of our life for granted.
We are often so busy, always chasing deadlines and meetings that we are so consumed to even notice and realize what is truly important to us and what happiness really is.
We fail to realize that often the most special moments and genuine happiness can be found in those small things and little moments in our everyday life.
Life is too short to take these moments for granted. May these little things quotes below remind you of the importance of appreciating little things and how small actions can often make the biggest difference.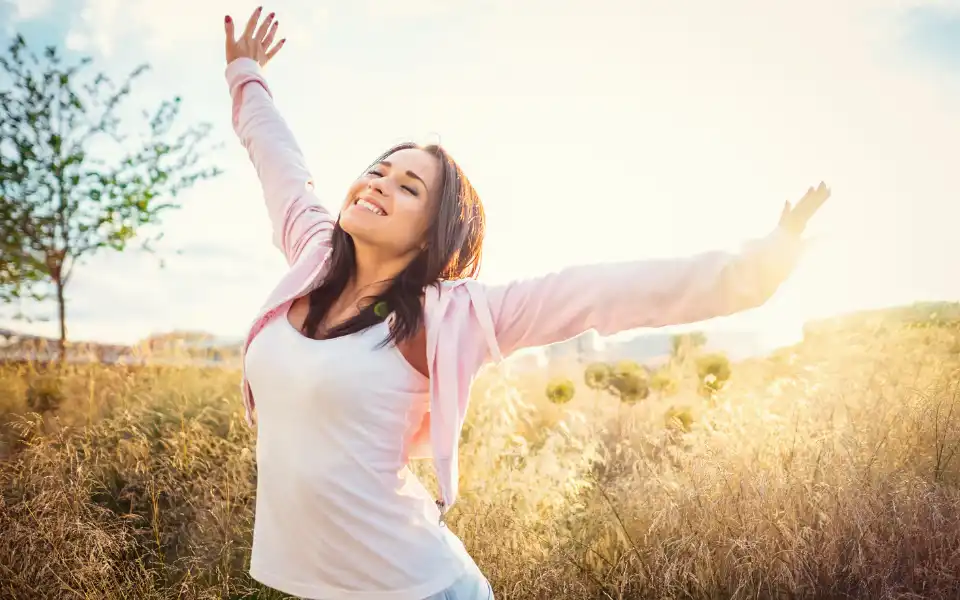 Little Things Quotes and Sayings
It's the little things, I expect. Little treasures we find without knowing their origin. And they come when we least expect them. It's beautiful, when you think about it.
— T.J. Klune
In the sweetness of friendship let there be laughter, and sharing of pleasures. For in the dew of little things the heart finds its morning and is refreshed.
— Khalil Gibran
The small things of life were often so much bigger than the great things . . . the trivial pleasure like cooking, one's home, little poems especially sad ones, solitary walks, funny things seen and overheard.
— Barbara Pym
I think it's important to find the little things in everyday life that make you happy.
— Paula Cole
It has long been an axiom of mine that the little things are infinitely the most important.
— Sir Arthur Conan Doyle
The older I get, the more I'm conscious of ways very small things can make a change in the world. Tiny little things, but the world is made up of tiny matters, isn't it?
— Sandra Cisneros
You need to let the little things that would ordinarily bore you suddenly thrill you.
— Andy Warhol
It's the little things that count, hundreds of 'em.
— Cliff Shaw
Life is just a lot of everyday adventures.
— Carol Ryrie Brink
Little things seem nothing, but they give peace, like those meadow flowers which individually seem odorless but all together perfume the air.
— Georges Bernanos
Sometimes, little things make a big difference…
— Nino Varsimashvili
It's the little details that are vital. Little things make big things happen.
— John Wooden
Sometimes the little opportunities that fly at us each day can have the biggest impact.
— Danny Wallace
If you can't do the little things right, you will never do the big things right.
— William H. McRaven
Little things quotes to inspire gratitude
Be grateful for what you already have while you pursue your goals.
If you aren't grateful for what you already have, what makes you think you would be happy with more.
— Roy T. Bennett
Blessed are they who see beautiful things in humble places where other people see nothing.
— Camille Pissarro
Let us be grateful to the people who make us happy; they are the charming gardeners who make our souls blossom.
— Marcel Proust
Life is made up not of great sacrifices or duties, but of little things, in which smiles and kindness and small obligations given habitually, are what preserve the heart and secure comfort.
— William Davy
Piglet noticed that even though he had a Very Small Heart, it could hold a rather large amount of Gratitude.
Most people seem to want tremendous improvement, instantly. But you'll probably find it's the little things you do that eventually add up to big results.
— Joel Weldon
Walk as if you are kissing the Earth with your feet.
— Thich Nhat Hanh
We cannot all do great things, but we can do small things with great love.
— Mother Teresa
Acknowledging the good that you already have in your life is the foundation for all abundance.
— Eckhart Tolle
Life is made up of little things. It is very rarely that an occasion is offered for doing a great deal at once. True greatness consists in being great in the little things.
— Charles Simmons
We can complain because rose bushes have thorns, or rejoice because thorns have roses.
— Alphonse Karr
The world is not moved only by the mighty shoves of the heroes, but also by the aggregate of the tiny pushes of each honest worker.
— Helen Keller
Cultivate the habit of being grateful for every good thing that comes to you, and to give thanks continuously. And because all things have contributed to your advancement, you should include all things in your gratitude.
— Ralph Waldo Emerson
Everyone is trying to accomplish something big, not realizing that life is made up of little things.
— Frank A. Clark
Related Posts:
Enjoy the little things quotes
While getting lost in all those little things that seem so important, don't forget the little things that matter.
— Virginia Alison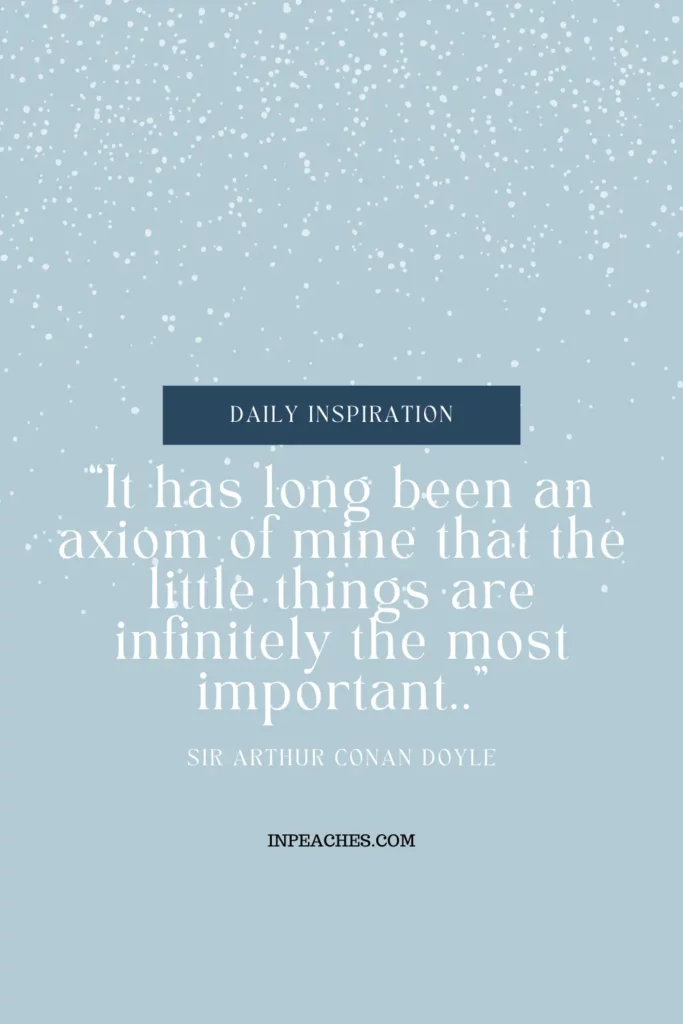 Perfect happiness is a beautiful sunset, the giggle of a grandchild, the first snowfall. It's the little things that make happy moments, not the grand events. Joy comes in sips, not gulps.
— Sharon Draper
Little people doing little things in little places everywhere can change the world.
— Anwar Fazal
If we are faithful to God in little things, we shall gain experience and strength that will be helpful to us in the more serious trials of life.
— Hudson Taylor
Where men or nations have broken down, it will almost invariably be found that neglect of little things was the rock on which they split.
— Samuel Smiles
Little things affect little minds.
— Benjamin Disraeli
The happiness of most people is not ruined by great catastrophes or fatal errors, but by the repetition of slowly destructive little things.
— Ernest Dimnet
And these little things may not seem like much but after a while they take you off on a direction where you may be a long way off from what other people have been thinking about.
— Roger Penrose
If you can see the little things and the small details around you as big things, you're enlightened.
— Mehmet Murat ildan
Sometimes the most happy people in life are the ones with nothing. We can't lose sight of the little things in life that should make us the happiest.
— Ryan Cabrera
While it may seem small, the ripple effects of small things is extraordinary.
— Matt Bevin
Life is too short to be arguing over some little things.
— Chamillionaire
Success is the sum of small efforts repeated day in and day out.
— Robert Collier
Live life like its the last breath you take for that breath is the whole essence of living, the little things in life are what connects us to all the big things we live for.
— Robert Frost
When you are older you will understand how precious little things, seemingly of no value in themselves, can be loved and prized above all price when they convey the love and thoughtfulness of a good heart.
— Edwin Booth
It's the little things quotes
Find gratitude in the little things and your well of gratitude will never run dry.
— Antonia Montoya
Little things are indeed little, but to be faithful in little things is a great thing.
— Mother Teresa
Find magic in the little things, and the big things you always expected will start to show up.
— Isa Zapata
Never neglect the little things. Never skimp on that extra effort, that additional few minutes, that soft word of praise or thanks, that delivery of the very best that you can do. It does not matter what others think, it is of prime importance, however, what you think about you. You can never do your best, which should always be your trademark, if you are cutting corners and shirking responsibilities. You are special. Act it. Never neglect the little things.
— Og Mandino
I was especially perceptive to all things beautiful that morning—raspberries in blue china bowls were enough to make the heart sing.
— Irene Hunt
Little by little does the trick.
— Aesop
He who does not wish for little things does not deserve big things.
— Belgian proverb
If you are going to achieve excellence in big things, you develop the habit in little matters. Excellence is not an exception, it is a prevailing attitude.
— Colin Powell
Without water drops, there can be no oceans; without steps, there can be no stairs; without little things, there can be no big things!
— Mehmet Murat ildan
The little things? The little moments? They aren't little.
— Jon Kabat-Zinn
Do the little things. In the future when you look back, they'd have made the greatest change.
— Nike Thaddeus
It's the little things citizens do. That's what will make the difference. My little thing is planting trees.
— Wangari Maathai
Nothing can be done except little by little.
— Charles Baudelaire
Note: The most relevant gestures we miss from our everyday interactions aren't the most grandiose. The subtle little here and there gestures are sometimes of profound depth than the grandiose we expect or see.
— Ufuoma Apoki
Delight in the little things.
— Rudyard Kipling
Little things quotes to brighten your day
It is the little things which reveal the chapters of the heart.
— Ellen G. White
Character is what emerges from all the little things you were too busy to do yesterday, but did anyway.
— Mignon McLaughlin
Never overlook the littlest things that can mean pure happiness to someone else.
— Mischa Temaul
I'm not sure why, but when a person expects something to last forever, they don't notice the little things. It's only when the clock is ticking all those little things add up and become bigger.
— Shannon Wiersbitzky
Never underestimate the significance of the little things done out of a large heart of love.
— Elizabeth George
Enjoy the little things, for one day you may look back and realize they were the big things.
— Robert Brault
We humans are a minority of giants stumbling around in a world of little things.
— Sue Hubbell
When you go through something…you learn to appreciate little things – the birds, trees, flowers.
— Grizz Chapman
Enjoy the satisfaction that comes from doing little things well.
— H. Jackson Brown, Jr.
It's no big thing, but you make big things out of little things sometimes.
— Robert Duval
I still get wildly enthusiastic about little things… I play with the leaves. I skip down the street and run against the wind.
— Leo Buscaglia
Little things console us because little things afflict us.
— Blaise Pascal
Live life like its the last breath you take for that breath is the whole essence of living, the little things in life are what connects us to all the big things we live for.
— Robert Frost
Watch the little things; a small leak will sink a great ship.
— Benjamin Franklin
Worry is spiritual nearsightedness, a fumbling way of looking at little things, and of magnifying their value.
— Anna Robertson Brown
Which of these little things resonated with you the most?
More inspirational quotes for you to enjoy