A collection of motivational sunshine quotes to give you hope and brighten your day.
The sun shining has always been a great beacon of hope, reminding us that even if we are navigating through dark and stormy seasons, the sun will always shine. There is always hope and things will always get better.
HERE ARE 80+ SUNSHINE QUOTES AND QUOTES ABOUT SUNSHINE
Keep your face to the sun and you will never see the shadows.
Laughter is magic that dispenses clouds and creates sunshine in the soul.
— Richelle E. Goodrich
Laughter is a sunbeam of the soul.
— Thomas Mann
If you want to see the sunshine, you have to weather the storm.
— Frank Lane
Wherever you go, no matter what the weather, always bring your own sunshine.
— Anthony J. D'Angelo
Even for me life had its gleams of sunshine.
— Charlotte Brontë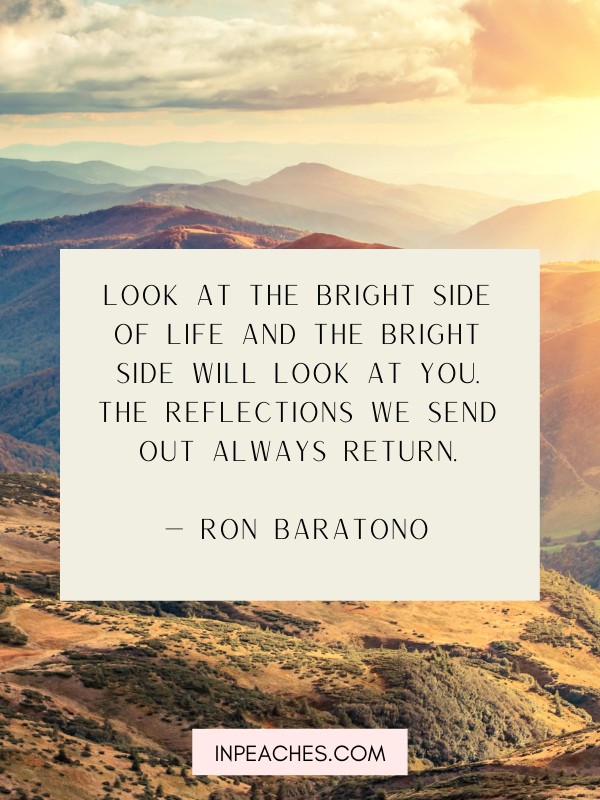 A flower cannot blossom without sunshine, and man cannot live without love.
— Max Muller
If you spend your whole life waiting for the storm, you'll never enjoy the sunshine.
— Morris West
What sunshine is to flowers, smiles are to humanity. These are but trifles, to be sure; but scattered along life's pathway, the good they do is inconceivable.
— Joseph Addison
We all want to see Sunshine after Moonlight.
— jan jansen easy branches
Sunshine is a welcome thing. It brings a lot of brightness.
— Jimmie Davis
Never give up. Today is hard, tomorrow will be worse, but the day after tomorrow will be sunshine.
— Jack Ma
A good laugh is sunshine in the house.
— William Makepeace Thackeray
But once in a while, you pick the right thing, the exact best thing. Every day, the moment you open your eyes and pull off your blankets, that's what you hope for. The sunshine on your face,warm enough to make you heart sing.
— Sarah Ockler
Sun will also retry to shine tomorrow then why not you.
— Rajesh Walecha
The sun,–the bright sun, that brings back, not light alone, but new life, and hope, and freshness to man–burst upon the crowded city in clear and radiant glory. Through costly-coloured glass and paper-mended window, through cathedral dome and rotten crevice, it shed its equal ray.
— Charles Dickens
Look at the bright side of life and the bright side will look at you. The reflections we send out always return.
— Ron Baratono
I used to cover my windows in heavy curtains, never drawn. Now I danced in the sunlight on my hardwood floors.
— Kimberly Novosel
A light wind swept over the corn, and all nature laughed in the sunshine.
— Anne Bronte
Far away there in the sunshine are my highest aspirations. I may not reach them, but I can look up and see their beauty, believe in them, and try to follow where they lead.
— Louisa May Alcott
Some people are so much sunshine to the square inch.
— Walt Whitman
Kindness is the sunshine in which virtue grows.
— Robert Green Ingersoll
Ô, Sunlight! The most precious gold to be found on Earth.
— Roman Payne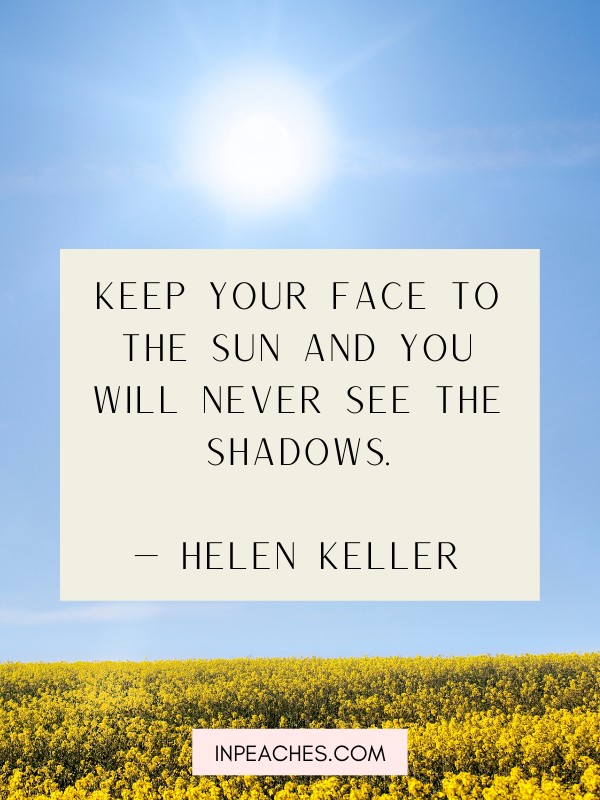 Nobody needs a smile so much as the one who has none to give. So get used to smiling heart-warming smiles, and you will spread sunshine in a sometimes dreary world.
— Lawrence G. Lovasik
As the years pass, I am coming more and more to understand that it is the common, everyday blessings of our common everyday lives for which we should be particularly grateful. They are the things that fill our lives with comfort and our hearts with gladness — just the pure air to breathe and the strength to breath it; just warmth and shelter and home folks; just plain food that gives us strength; the bright sunshine on a cold day; and a cool breeze when the day is warm.
— Laura Ingalls Wilder
Keep your face always toward the sunshine – and shadows will fall behind you.
— Walt Whitman
She was like the sun,
She knew her place in the world –
She would shine again regardless
of all the storms and changeable weather
She wouldn't adjust her purpose
for things that pass.
— Nikki Rowe
INSPIRATIONAL SUNSHINE QUOTES
To be happy you must be your own sunshine.
— C.E. Jerningham
Life brings darkness so many times, and we feel down in this phase of darkness. But the true value of darkness only realizes when we face the darkness, until we look some sunshine within the darkness.
— John Magoss
But friendship is precious, not only in the shade, but in the sunshine of life, and thanks to a benevolent arrangement the greater part of life is sunshine.
— Thomas Jefferson
Having a dream is like having sunshine. Without it, you cannot see as clear. With it, your world shines. Have a dream, and the light will fill your eyes with hope.
— J.R. Rim
We need the storms, the overcast days to help us appreciate the sunny days. If it was sunny every day then we would start taking it for granted.
— Catherine Pulsifer
The sun is new each day.
— Heraclitus
Look at the sunny side of everything.
— Christian D. Larsen
And may sunshine and happiness / Surround you when you're far from home.
— Rod Stewart
RELATED INSPIRATIONAL QUOTE POSTS:
Don't let the shadows of yesterday spoil the sunshine of tomorrow. Live for today.
— Nandina Morris
To say goodbye, is to die a little.
To say good morning, is a hope for a new sunshine in a cloudy winter.
— Nabil TOUSSI
He that will enjoy the brightness of sunshine, must quit the coolness of the shade.
— Samuel Johnson
Faith is the virtue of the storm, just as the happiness is the virtue of sunshine.
— Ruth Fulton Benedict
Have you ever looked up to the bright natural morning light and felt bad? You cannot because this is the light which brings happiness and starts the another day in your precious life.
— Evelyn Snares
The day of the sun is like the day of a king. It is a promenade in the morning, a sitting on the throne at noon, a pageant in the evening.
— Wallace Stevens
The sun always shines above the clouds.
— Paul F. Davis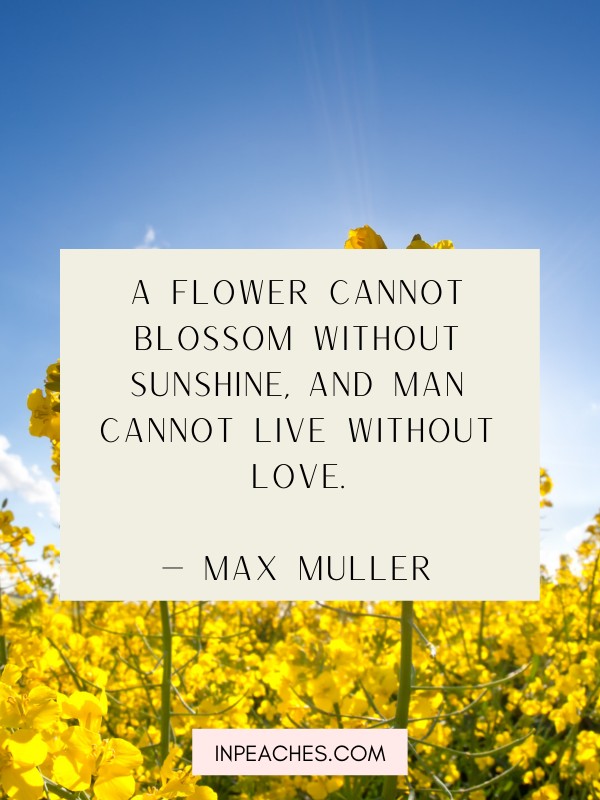 As the sun shines I will make hay
To keep failure at bay
For there remaineth a pay
For my honest toil each day.
— Ogwo David Emenike
Let there always be a bright spot in your heart for the people around you. They might need a bit of sunshine.
— Ron Baratono
Faith is what puts sunshine in my day.
— Anthony T. Hincks
We'll find it again, the sun.
— Shannon Price
We must leave this terrifying place to-morrow and go searching for sunshine.
— F. Scott Fitzgerald
The Sun can be your greatest gloom, or your greatest comforter, depending on how you view its shine.
— Anthony Liccione
Focus on being happy rather than having fair color. A little sunshine each day helps you sleep better at night.
— Sarvesh Jain
I'm just a simple guy, I live from day to day. A ray of sunshine melts my frown and blows my blues away.
— Jimmy Page
A flower needs sunlight to grow and develop. Learning is like sunshine to us, helping us grow and develop.
― Catherine Pulsifer
Be your own sunshine. ALWAYS.
— Purvi Raniga
Smile is the sunshine in the heart.
— Lailah Gifty Akita
Your thoughts and your perception of the world influences all that you do, and all that you are, and all that you can be. If you see the sunshine, feel the sunshine then you feel good. But if your focus is only on the clouds and the dark sky then you may find yourself a bit gloomy.
— Catherine Pulsifer
Think of the days alive with sunshine, not the dismal days of rain.
— Robert E Farley
Storms, hail, floods and all sorts of bad weather will come in life, but you know what, so will sunshine.
Do not give up on your path to breakthroughs just because there are mountains to climb along the way.
Remain steadfast in your faith.
When everything seems so dark, remember that one day, the sun will shine again.
— Gift Gugu Mona
MORE SUNSHINE QUOTES AND SAYINGS
It is eternity now. I am in the midst of it. It is about me and the sunshine.
— Richard Jefferies
Love comforteth like sunshine after rain.
— William Shakespeare
If you have extra to spare, share some of kindness with others. Those who are in a dark place, may just need that small break in their clouds to see some sunshine again.
— Christine E. Szymanski
Compliment people wherever you go. Praise every single thing you see. Be a ray of sunshine to everyone you meet.
— Rhonda Byrne
In a world like ours, all we've got to be is the warmth of the morning sun.
— Michael Bassey Johnson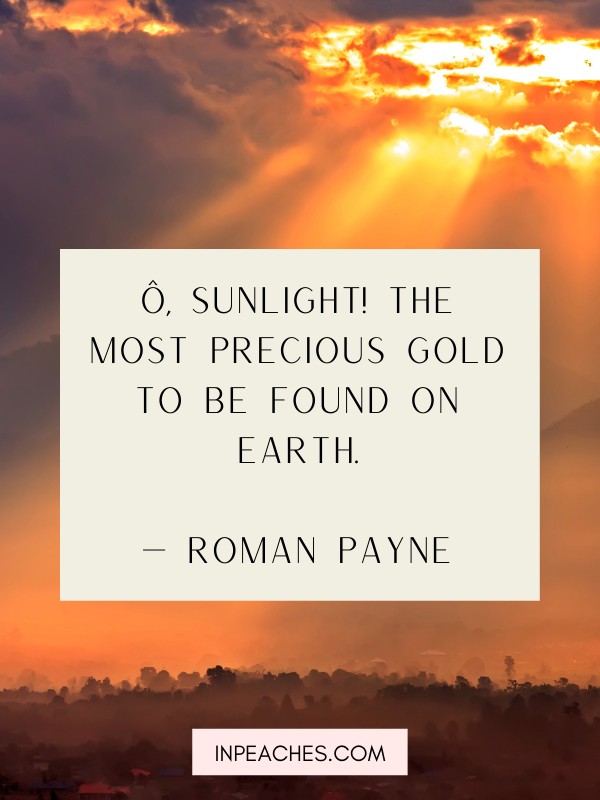 The flowers inside your body are more beautiful than the flowers outside – full with fragrance and love. They are the sunshine and the medicine of your soul. Oh, the lost one come back to the source. You will be happier than ever before.
— Amit Ray
It's never easy to lose. But life is not all sunshine and roses.
— AB de Villiers
Early morning sunshine have a different kind of peace in winters.
— Sarvesh Jain
Life is a mixture of sunshine and rain, teardrops and laughter, pleasure and pain. Just remember, there was never a cloud that the sun couldn't shine through.
— Anonymous
As a flower can't bloom without sunshine so a life can't flourish without love.
— Debasish Mridha, MD
If you want to teach the light something, you need to know the places where the light has never reached, for the other places are already well known to the light!
— Mehmet Murat ildan
Why should we grope among the dry bones of the past? The sun shines today also.
— Ralph Waldo Emerson
God gives us the sunshine of hope everyday. It's up to us to find and bask in it daily.
— Timothy Pina
In your darkest hour, give thanks, for in due time, the morning will come.
And it will come with a ray of sunshine.
— Michael Bassey Johnson
The sun is a daily reminder that we too can rise again from the darkness, that we too can shine our own light.
— S. Ajna
Sending you a day full of sunshine, a heaven filled with rainbows, and a pocket full of dreams. May the future ahead of you be as wonderful as you are.
— Judith Wibberley
You may run into some gray clouds along your journey, so hold on tight to the sunshine within you.
— Christine E. Szymanski
And so with the sunshine and the great bursts of leaves growing on the trees, just as things grow in fast movies, I had that familiar conviction that life was beginning over again with the summer.
— F. Scott Fitzgerald
Change, like sunshine, can be a friend or a foe, a blessing or a curse, a dawn or a dusk.
― William Arthur Ward
You see but your shadow when you turn your back to the sun.
— Kahlil Gibran
Sunshine is the best medicine out there, don't steal it from others.
— Christine E. Szymanski
Rise above the storm and you will find the sunshine.
— Mario Fernandez
The sun taught me how to love, by shining on everybody.
— Michael Bassey Johnson
I know it's a cliché, but the sun makes me happy. When you can feel the sunshine on you, you feel better, happier, and naturally, every human being needs the sun.
— Doutzen Kroes
The sun does not shine for a few trees and flowers, but the wide world's joy.
— Henry Ward Beecher
It is the artist's business to create sunshine when the sun fails.
— Romain Rolland
I feel there's a halo around me, a constant sunshine wherever I go.
— Vicky Kaushal
Change, like sunshine, can be a friend or a foe, a blessing or a curse, a dawn or a dusk.
— William Arthur Ward
The summer sun welcomes me out
to sandy beaches with palm trees.
I am lulled by caressing rays
as warm as heavy, denim quilts.
The heat melts away distresses
from my muscles, from my thinking.
Entranced and contented, I bask
in the careless arms of sunshine.
— Richelle E. Goodrich
Just living is not enough… one must have sunshine, freedom, and a little flower.
— Hans Christian Andersen
Which of these sunshine quotes inspired and motivated you the most?
MORE INSPIRATIONAL QUOTES FOR YOU TO ENJOY