An inspirational collection of sharing quotes that'll inspire you to give more, be kinder, and always spread love and compassion wherever you go.
Finding genuine happiness and living a meaningful life can be achieved if we learn to be more compassionate, selfless and share with an open heart without expecting anything in return.
Sharing is not only about giving money and things. It can be also be done by sharing a smile, a listening ear, a comforting hug, your time, knowledge and so much more.
You don't have to have a lot of things or so much money to be able to share and give more. Sharing is about giving what you can wholeheartedly without expecting anything in return.
Remember, even a little act of kindness can make such a powerful and big difference.
May these sharing quotes and giving quotes below inspire you and remind you of the importance of sharing.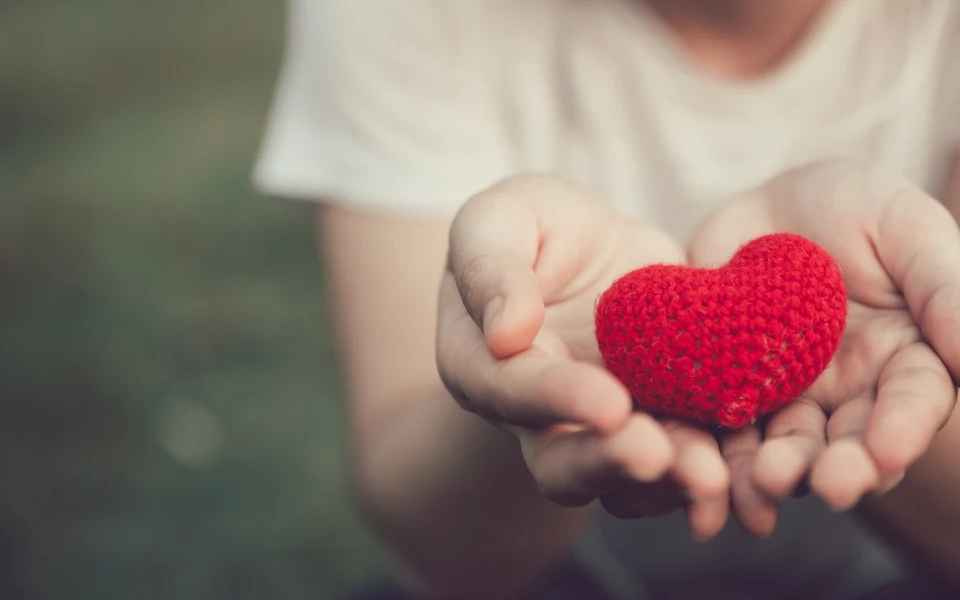 Sharing Quotes and Sayings
This life is for loving, sharing, learning, smiling, caring, forgiving, laughing, hugging, helping, dancing, wondering, healing, and even more loving. I choose to live life this way. I want to live my life in such a way that when I get out of bed in the morning, the devil says, 'aw shit, he's up!
— Steve Maraboli
Sharing is a much better way to communicate than proving.
— Yo-Yo Ma
Happiness quite unshared can scarcely be called happiness; it has no taste.
— Charlotte Bronte
Share your life with others. You will have a joyful life.
— Lailah Gifty Akita
If we have no peace, it is because we have
forgotten that we belong to each other.
By sharing we stand prepared to build relationships and give wings to humanity.
— Kishore Bansal
Pull up a chair. Take a taste. Come join us. Life is so endlessly delicious.
— Ruth Reichl
Share your knowledge. It is a way to achieve immortality.
— Dalai Lama
Love only grows by sharing. You can only have more for yourself by giving it away to others.
— Brian Tracy
Once you find your positive vision, then share the victory of your loving attitudes with everyone.
— Bryant McGill
Giving and Sharing Quotes
No one is useless in this world who lightens the burdens of another.
— Charles Dickens
Finding your soul begins by discovering our ability to listen! Alternatively, by sharing a smile, a laugh and just by being human to everyone – from friends, colleagues, family, and especially strangers, including those who are not from the same station in life as you.
— Om Malik
You give but little when you give of your possessions.
It is when you give of yourself that you truly give.
— Kahlil Gibran
A kind gesture can reach a wound that only compassion can heal.
— Steve Maraboli
In the sweetness of friendship let there be laughter, and sharing of pleasures. For in the dew of little things the heart finds its morning and is refreshed.
— Khalil Gibran
Help others without any reason and give without the expectation of receiving anything in return.
— Roy T. Bennett
We make a living by what we get. We make a life by what we give.
— Winston Churchhill
A smile is the light in your window that tells others that there is a caring, sharing person inside.
— Denis Waitley
Learn to light a candle in the darkest moments of someone's life. Be the light that helps others see; it is what gives life its deepest significance.
— Roy T. Bennett
It's not how much we give but how much love we put into giving.
— Mother Theresa
Related Posts:
Joy of Sharing Quotes
Happiness comes from helping others, by being with others, and by sharing, even if it's only a smile.
— Zain Hashmi
If you are really thankful, what do you do? You share.
— W. Clement Stone
Thousands of candles can be lit from a single candle, and the life of the candle will not be shortened. Happiness never decreases by being shared.
— Gautama Buddha
Sharing empathy is one of the most wonderful aspects of the human experience.
— Christine Rose Elle
Life is all about sharing. If we are good at something, pass it on.
— Mary Berry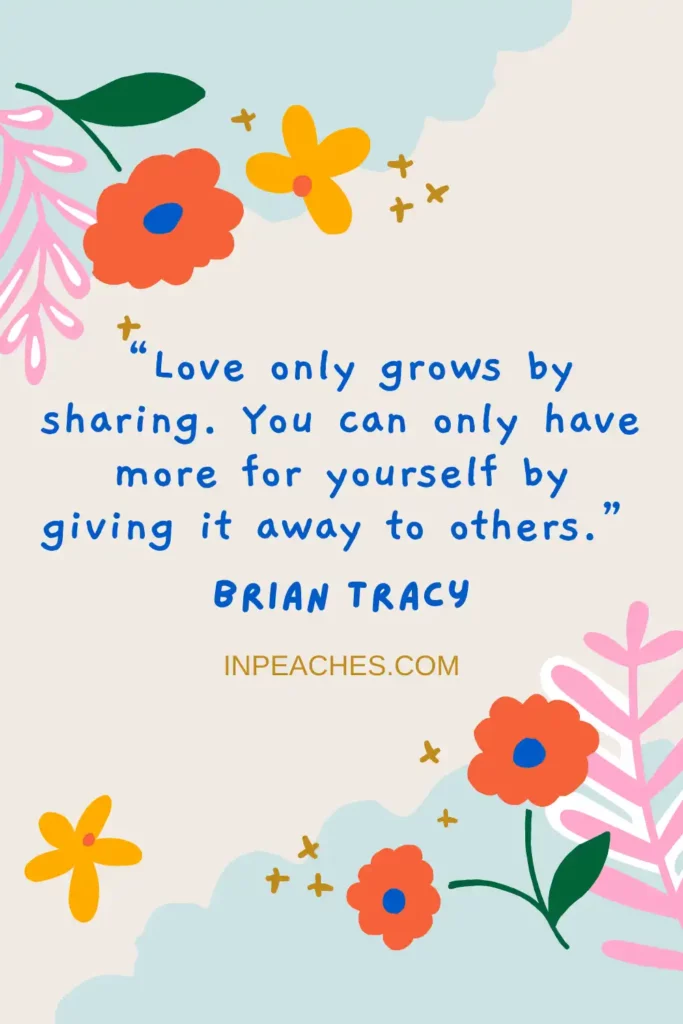 We are all created equal with special gifts and if we reach out to each other in sharing these gifts, we all become richer.
— Roy Henry Vickers
Sharing kindness and exhibiting dignity and grace will contribute significantly to feeling beautiful for the rest of your life.
— Vivian Diller
I believe that people would be happier sharing things and being more of a collective rather than working from these neo-liberal ideas of just looking after yourself. People need each other.
— Karin Dreijer Andersson
Your abundance is not measured by what you have, it is created by what you share.
— Heidi Catherine Culbertson
Be willing to share your blessings. The only riches that last are the ones that are given away.
— David Khalil
Inspirational Sharing Quotes
But I give best when I give from that deeper place; when I give simply, freely and generously, and sometimes for no particular reason. I give best when I give from my heart.
— Steve Goodier
Sharing an idea you care about is a generous way to change your world for the better.
— Seth Godin
Share, care, hug like a bear.
— Amy Leigh Mercree
Sharing makes you bigger than you are. The more you pour out, the more life will be able to pour in.
— Anurag Prakash Ray
One of the most important things you can do on this earth is to let people know they are not alone.
— Shannon L. Alder
It's about sharing. You just give what you have to give wherever you go, and you let God handle the rest.
— Lindsay Wagner
If you have a candle, the light won't glow any dimmer if I light yours off of mine.
— Steven Tyler
Sharing laughter is a way of casting delight to the wind so it blows everywhere and to everyone.
— Paul Pearsall
Nothing is yours. It is to use. It is to share. If you will not share it, you cannot use it.
— Ursula K. Le Guin
If people truly cared and shared equally the world would have no poverty at all.
— Malika E Nura
More Quotes about Sharing
The surest way to be happy is to seek happiness for others.
— Martin Luther King, Jr.
The most truly generous persons are those who give silently without hope of praise or reward.
— Carol Ryrie Brink
No one has ever become poor by giving.
— Anne Frank
For it is in giving that we receive.
— St. Francis of Assisi
Happiness is like a kiss. You must share it to enjoy it.
— Bernard Meltzer
Every sunrise is an invitation for us to arise and brighten someone's day.
— Richelle E. Goodrich
Remember that the happiest people are not those getting more, but those giving more.
— H. Jackson Brown, Jr.
You can give without loving, but you cannot love without giving.
— Amy Carmichael
An act of goodness is of itself an act of happiness.
— Maurice Maeterlinck
Presents are made for the pleasure of who gives them, not the merits of who receives them.
— Carlos Ruiz Zafón
Which of these sharing quotes inspired you the most?
More inspirational quotes for you to enjoy