A collection of rainbow quotes to brighten up your life and help you get through rainy days!
Rainbows are not only beautiful and mesmerizing but they can also serve as a symbol of hope. Reminding us that even if we are going through stormy seasons in our life and when we feel like everything seems impossible, things will always get better and brighter days are coming.
HERE ARE 80+ RAINBOW QUOTES TO INSPIRE AND LIFT YOUR SPIRIT
God puts rainbows in the clouds so that each of us – in the dreariest and most dreaded moments – can see a possibility of hope.
— Maya Angelou
The way I see it, if you want the rainbow, you gotta put up with the rain.
— Dolly Parton
One can enjoy a rainbow without necessarily forgetting the forces that made it.
— Mark Twain
Life is about dancing in the rain while the sun sings its music and the rainbows deliver hope
— Mimi Novic
If a rainbow makes a sound, or a flower as it grows, that was the sound of her laughter.
— William P. Young
Dare to love yourself
as if you were a rainbow
with gold at both ends.
— Author-Poet Aberjhani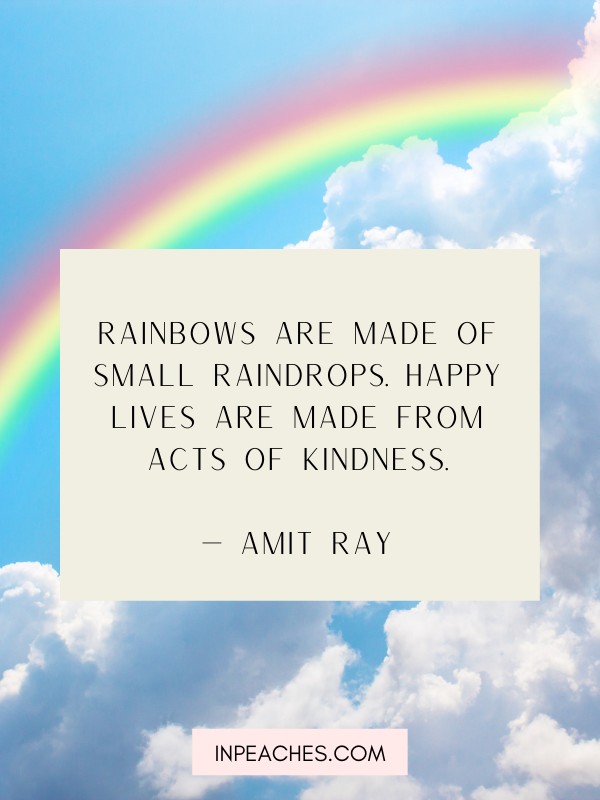 You may complain that rain has stained your plans but you cannot restrain the rain; rain is water and water is life. None appreciates rainbow and sunshine better than he on whose parade it has rained.
— Vincent Okay Nwachukwu
Rainbows are made of small raindrops. Happy lives are made from acts of kindness.
— Amit Ray
Be everything that you are unapologetically, most of you will find out that you are not just one color, you are a rainbow.
— Mridula Singh
Facing our problems, first, and living by the seat of the pants, and opening ourselves to the world can turn life into a captivating journey on a sparkling rainbow.
— Erik Pevernagie
It takes sunshine and rain to make a rainbow. There would be no rainbows without sunshine and rain.
— Roy T. Bennett
Life throws challenges and every challenge comes with rainbows and lights to conquer it.
— Amit Ray
Be thou the rainbow in the storms of life. The evening beam that smiles the clouds away, and tints tomorrow with prophetic ray.
— Lord Byron
When a friend is going through a difficult stormy time in their life, try to be the rainbow that makes them smile.
— R.J. Intindola
If you want to see a rainbow you have to learn to see the rain.
— Paulo Coelho
There will always be darkness. There will always be more rain after the storm has ceased. But we need to search for the rainbow between those moments.
— K. Weikel
After a debauch of thunder-shower, the weather takes the pledge and signs it with a rainbow.
— Thomas Bailey Aldrich
Don't seek to be happy; let everyone else chase after that rainbow. Seek to be kind, and you'll find the rainbow follows you.
— Richelle E. Goodrich
I don't have to understand the reasons for the colours of a rainbow to appreciate its beauty.
— Wayne Gerard Trotman
The appearance of rainbow in the cloud shows a lasting covenant between the Creator and his creation on earth.
— Lailah Gifty Akita
Let no one who loves be unhappy, even love unreturned has its rainbow.
— James M. Barrie
Shine your soul with the same
egoless humility as the rainbow
and no matter where you go
in this world or the next,
love will find you, attend you, and bless you.
— Aberjhani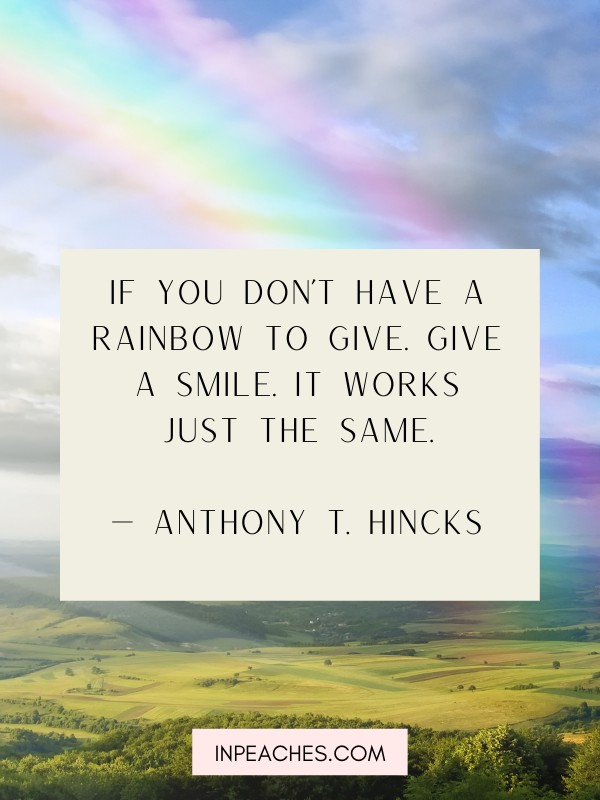 And when it rains on your parade, look up rather than down. Without the rain, there would be no rainbow.
— Gilbert K. Chesterton
There can be no rainbow without a cloud and a storm.
— John H. Vincent
Don't fear the storm, for the rainbow's never far behind.
— Jamie Worthington
Try to be a rainbow in someone's cloud.
— Maya Angelou
I've always said, 'Before you see the rainbow, it has to storm.
— Marcus Smart
INSPIRATIONAL RAINBOW QUOTES
Have faith in your dreams and someday your rainbow will come shining through. No matter how your heart is grieving, if you keep believing, the dream that you wish will come true.
— Gilbert K. Chesterton
Whenever you need a rainbow, never try to take someone else's rain or sun for your own rainbow!
— Mehmet Murat ildan
Don't turn around. Don't look back. Keep moving forward. Keep pushing. The pot of gold is at the end of the rainbow, not the beginning.
— Ziad K. Abdelnour
Be proud of the incredible person that you are… and become a rainbow in someone's cloudy day.
— Nyki Mack
Rainbows introduce us to reflections of different beautiful possibilities so we never forget that pain and grief are not the final options in life.
— Aberjhani
I'm continually inspired by nature, and the rainbow is one of nature's greatest optical phenomenon. The sighting of a rainbow never fails to bring a smile to people's faces. They signify optimism and positivity: with them comes the sunshine after the rain.
— Matthew Williamson
RELATED INSPIRATIONAL QUOTE POSTS:
May I create plain fields by collecting clouds and bedeck them with arching rainbows.
— Suman Pokhrel
Like the rainbow
after the rain
joy will reveal itself
after sorrow
Somewhere over the rainbow, skies are blue, and the dreams that you dare to dream really do come true.
— E.Y. Harburg
Storm? Shine your light and make a rainbow.
— Richie Norton
Know that rainbows and butterflies are God's gift to your joy.
— Jonathan Lockwood Huie
There comes a point in your life when you realize your hardest times are your best times, too—you will see the rainbow of your life.
— Roy Bennett
Teach them that rainbows appear after a storm to remind them that light begins and ends with all colors.
— Frederic M. Perrin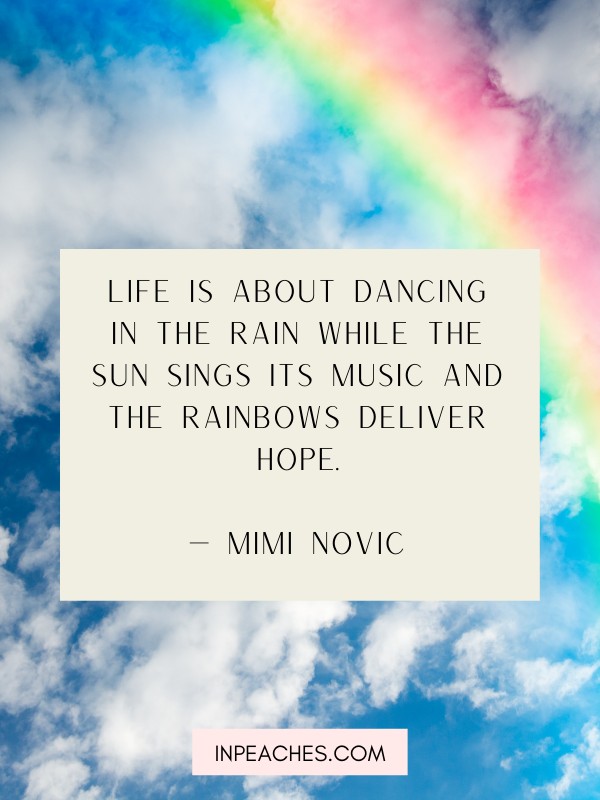 Still, when it looked like the sun wasn't going to shine anymore, God put a rainbow in the clouds.
— Maya Angelou
When thunderstorms roll in, you make a choice to either succumb with tears to the gloomy downpour, or smile and look for rainbows.
— Richelle E. Goodrich
A double rain, a double promise, a double portion blessing.
— Anonymous
If you don't have a rainbow to give. Give a smile. It works just the same.
— Anthony T. Hincks
I adore the sky wearing rainbow shawl of love for the birds so that they could fly free in warmth after the storm
— Munia Khan
To catch the rainbows of your dreams, love yourself, love what you do, and how you do.
— Amit Ray
Formal education teaches how to stand, but to see the rainbow you must come out and walk many steps on your own.
— Amit Ray
Rainbows apologize for angry skies.
— Sylvia A. Voirol
It's when you follow the rain clouds that you find out where the rainbows are hiding.
— Anthony T. Hincks
Let's start a new slate, let's look for the rainbow in every cloud and let's be more humane and selfless, let us become more philanthropic- that's my wish for the New Year.
— Charmaine J Forde
Happiness doesn't always come in pink. Learn to appreciate the rainbow.
— Richelle E. Goodrich
You'll never find a rainbow if you're looking down.
— Charlie Chaplin
Only rainbows after rain the sun will always come again.
— Tahlia Chi
My eyes constantly seek
the rainbow of my dreams
and I sometimes fail
to be grateful for raindrops
that keeps my hope alive
— Vijaya Gowrisankar
If you want to enjoy the rainbow, be prepared to endure the storm.
— Warren Wendel Wiersbe
In life, you either choose to sing a rainbow, or you don't. Keep singing.
— Kathleen Long
All the best things in life are free: love, smiles, friends, family, pets & companions, thoughts, sunsets & sunrises and especially rainbows.
— Anthony T. Hincks
With all colors combined the world shines.
― Arefin Bashar Arif
MORE INSPIRING RAINBOW QUOTES AND QUOTES ABOUT RAINBOWS
To be a rainbow in someone's cloud is commendable, but I prefer to be the rain because it dampens cheeks and washes away tears.
— Richelle E. Goodrich
Sometimes the greatest storms bring out the greatest beauty… Life can be a storm, but your hope is a rainbow and your friends and family are the gold.
— Steve Maraboli
Climb every mountain , Ford Every stream
Follow every rainbow ,'Till you find your dream
— Stephanie Laurens
An optimist sees rainbows when there is rain.
— Debasish Mridha
Anytime I see a rainbow, what comes into my mind is how skillful and talented someone was to create an ark that didn't leak through a prolong period of flood. We must work our talents out and work them out skillfully and then our rainbow of excellence will show.
— Israelmore Ayivor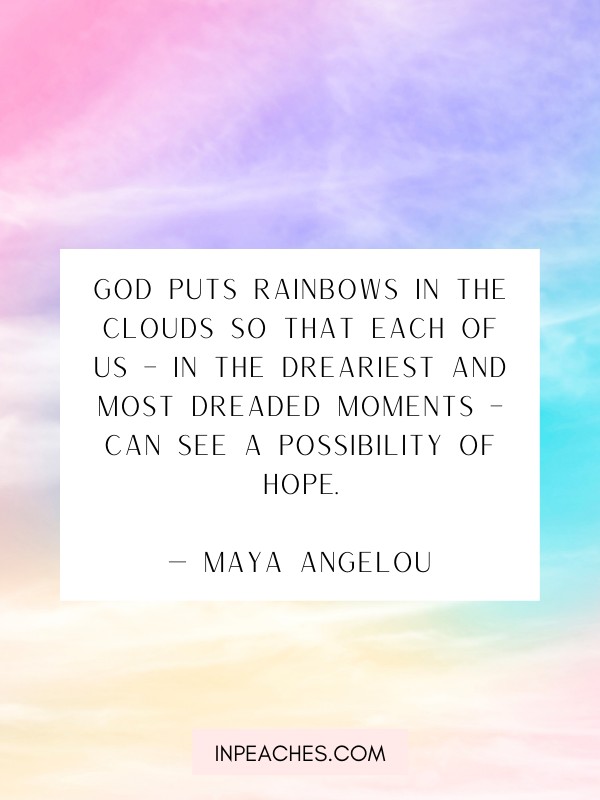 If you cannot see the rainbow because your face is down, don't argue that no rainbow is up there. Lift up your passion and take your dreams off the ground!
— Israelmore Ayivor
Write about the beauty of rainbows and the glint of reflected light that can enlighten readers' minds.
— Debasish Mridha
When I see a rainbow, I know that someone, somewhere loves me.
— Anthony T. Hincks
Gratitude is the real treasure God wants us to find, because it isn't the pot of gold but the rainbow that colors our world.
— Richelle E. Goodrich
Only rainbows after rain the sun will always come again.
— Tahlia Chi
Just look at the sky when the rainbow appears and all the richness of
colors will fascinate you completely.
— Eraldo Banovac
After every storm, there is a rainbow. If you have eyes, you will find it. If you have wisdom, you will create it. If you have love for yourself and others, you won't need it.
— Shannon L. Alder
Rainbows reminds us that even after the darkest clouds and the fiercest winds there is still beauty.
— Katrina Mayer
Life without dreams is like a rainbow without colours.
— Greyson Chance
Never scared of challenges that comes into our life like the cloud and rain, because the rainbows will come to surpass them; and teach ourselves to be a RAINBOW in other people's cloud, to make them happy.
— Ejump
It's when a rainbow smiles that sadness is banished from the land.
— Anthony T. Hincks
Love was a feeling completely bound up with color, like thousands of rainbows superimposed one on top of the other.
— Paulo Coelho
A heart of gold is where the rainbow begins.
— Tammy L. Kubasko
Rainbow of happiness is the byproduct of your inner sunshine, after the rain of sorrows.
— Vikrmn
When beauty is seen through the windows of the soul – rainbows appear and everything is magical. It feels simply divine.
— Angie Karan
Rainbows have a way of making the world seem right.
— Anthony T. Hincks
Draw a curve with your each smile & let your happiness be known to the world like a stunning rainbow!
— Somya Kedia
The soul would have no rainbow if the eyes had no tears.
— John Vance Cheney
Where does the rainbow end, in your soul or on the horizon?
— Pablo Neruda
Each of us has the power and responsibility to become a rainbow in the clouds.
— Maya Angelou
In my ordinary world you appeared like a double rainbow
— Tavneet Kaur
The work will wait while you show the child the rainbow, but the rainbow won't wait while you do the work.
— Patricia Clafford
Every sacrifice is another colour of your Rainbow!
— Cass van Krah
We colour the world,
Not with the darkness of our pasts,
But with the rainbow of our hope.
— Jenim Dibie
I'd rather see the world as a rainbow than endless shade of gray.
— Amani Abbas
Which of these rainbow quotes inspired you the most?
MORE INSPIRATIONAL QUOTES FOR YOU TO ENJOY