A collection of powerful waiting quotes to inspire you to be patient and not give up!
Waiting is not always a bad thing. Often, amazing and wonderful things can happen to those who are patient and know how to wait.
HERE ARE 40+ WAITING QUOTES AND INSPIRING QUOTES ABOUT WAITING
Life was always a matter of waiting for the right moment to act.
— Paulo Coelho
What we are waiting for is not as important as what happens to us while we are waiting. Trust the process.
— Mandy Hale
You usually have to wait for that which is worth waiting for.
— Craig Bruce
Patience is power.
Patience is not an absence of action;
rather it is "timing"
it waits on the right time to act,
for the right principles
and in the right way.
— Fulton J. Shee
Everything happens for a reason. Wait on God and trust in Him. He wants the best for us. He wants to take us from glory to glory, and from victory to victory.
— Germany Kent
Patience is not simply the ability to wait – it's how we behave while we're waiting.
— Joyce Meyer
It is very strange that the years teach us patience – that the shorter our time, the greater our capacity for waiting.
— Elizabeth Taylor
We wait expectantly for what we hope for.
— Lailah Gifty Akita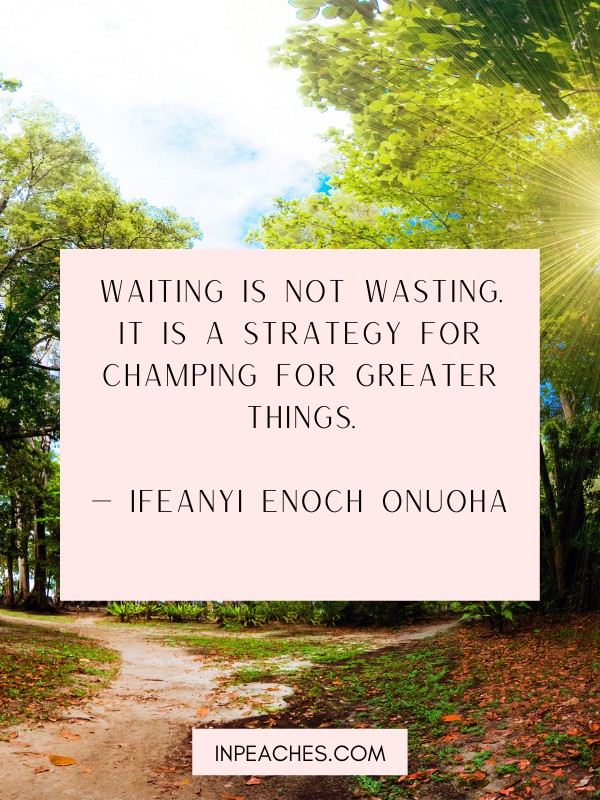 In the modern world, human beings display little tolerance for waiting. We are addicted to fast food, instant messaging, and other conveniences of life. Patience is a lost virtue.
— Kilroy J. Oldster
You must learn to wait for the fulfillment of your visions.
— Lailah Gifty Akita
Waiting on God requires the willingness to bear uncertainty, to carry within oneself the unanswered question, lifting the heart to God about it whenever it intrudes upon one's thoughts.
— Elizabeth Elliot
Hope is the daughter of patience. The longer you wait will define you at the end of the journey.
— Mwanandeke Kindembo
Maybe the right kind of waiting means moving with the world till you sync with it and win it over.
— Ree Villaruel
When you have done all you can do, leave it alone. It's not in your control. Trust the process.
— Germany Kent
Whatever we are waiting for – peace of mind, contentment, grace, the inner awareness of simple abundance – it will surely come to us, but only when we are ready to receive it with an open and grateful heart.
— Sarah Ban Breathnach
To understand the life better, find a corner and wait there! You will then see that all sorts of things and events will suddenly appear at the corner, as it happens in life!
— Mehmet Murat ildan
Good things come to those that wait up.
— Jordan Hoechlin
Learn to wait but not to be idle;
Learn to wait but not to be late;
Learn to wait but not to be lazy;
Learn to wait but not to be defeated;
Learn to wait but not to be confused;
Learn to wait but not to be worried;
Learn to wait but not to be detached;
Learn to wait but not to be distracted;
Learn to wait but not to be hesitant;
Learn to wait but not to be lucky;
Learn to wait but not to give up
— P.S. Jagadeesh Kumar
It is more important to go slow and gain the lessons you need along the journey then to rush the process and arrive at your destination empty.
— Germany Kent
Each life is made up of mistakes and learning, waiting and growing, practicing patience and being persistent.
— Billy Graham
INSPIRING WAITING QUOTES
All things come to him who waits – provided he knows what he is waiting for.
— Woodrow T. Wilson
Wait patiently for what you want.
— Lailah Gifty Akita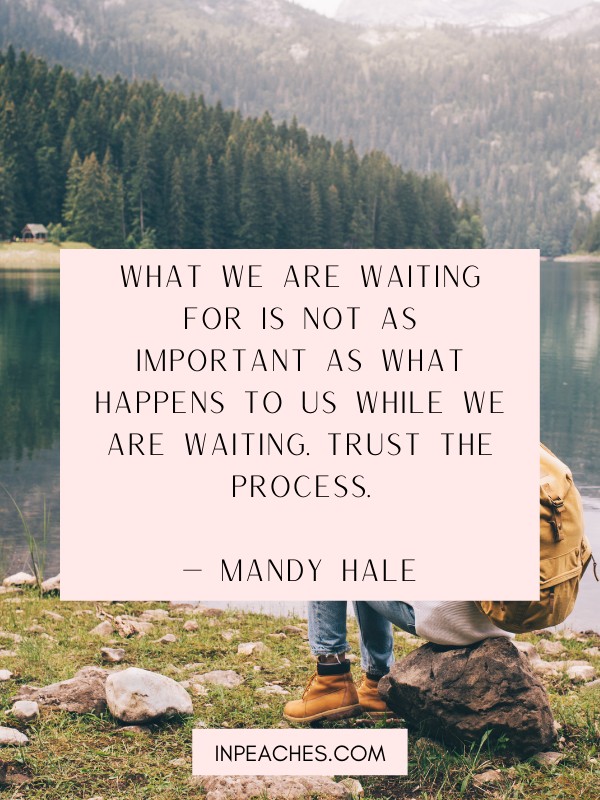 Waiting is not wasting. It is a strategy for champing for greater things.
— Ifeanyi Enoch Onuoha
The sea does not reward those who are too anxious, too greedy, or too impatient. One should lie empty, open, choiceless as a beach – waiting for a gift from the sea.
— Anne Morrow Lindbergh
Waiting is not always a bad thing; it can bring its own joy -the thrill of anticipation.
— David Jeremiah
Your heart is full of fertile seeds, waiting to sprout.
— Morihei Ueshiba
RELATED INSPIRATIONAL QUOTE POSTS:
There is no great achievement that is not the result of patient working and waiting.
— J. G. Holland
Don't rush things. Anything worth having is worth waiting for.
— unknown
Waiting is not mere empty hoping. It has the inner certainty of reaching the goal.
— I Ching
You are not just waiting in vain. There is a purpose behind every delay.
— Mandy Hale
Things may come to those who wait, but only the things left by those who hustle.
— Abraham Lincoln
And sure enough even waiting will end…if you can just wait long enough
— William Faulkner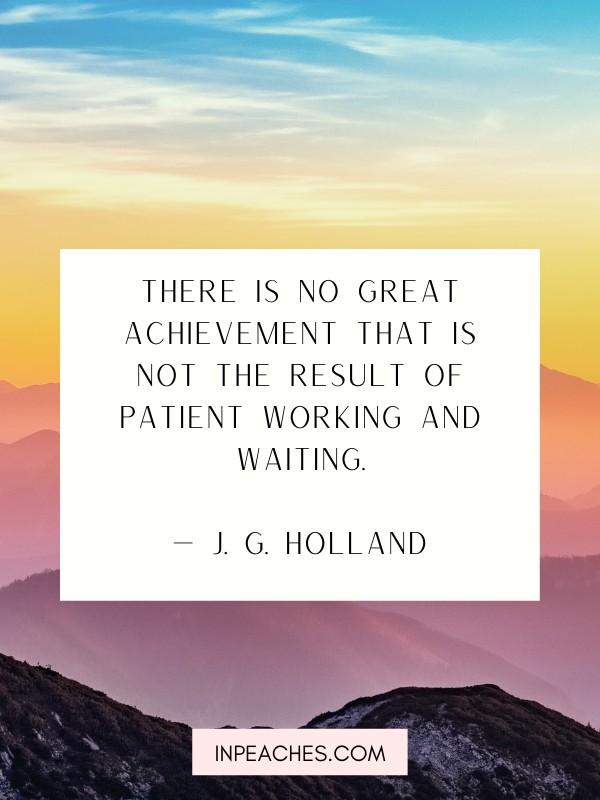 Waiting is not always a bad thing; it can bring its own joy -the thrill of anticipation.
— David Jeremiah
You can't stay in your corner of the forest waiting for others to come to you. You have to go to them sometimes.
— A. A. Milne
I had tended to view waiting as mere passivity. When I looked it up in my dictionary however, I found that the words passive and passion come from the same Latin root, pati, which means to endure. Waiting is thus both passive and passionate. It's a vibrant, contemplative work. It means descending into self, into God, into the deeper labyrinths of prayer. It involves listening to disinherited voices within, facing the wounded holes in the soul, the denied and undiscovered, the places one lives falsely. It means struggling with the vision of who we really are in God and molding the courage to live that vision.
— Sue Monk Kidd
MORE WAITING QUOTES AND SAYINGS
But the important thing about learning to wait, I feel sure, is to know what you are waiting for.
— Anna Neagle
Even a snail will eventually reach its destination.
— Gail Tsukiyama
To know how to wait is the great secret of success.
— De Maistre
Everyone can perform magic, everyone can reach his goals, if
he is able to think, if he is able to wait, if he is able to fast.
— Hermann Hesse
Waiting, like nothing else, reveals our complex human relationship with time.
— Margaret Whipp
Fear is the glue that keeps you stuck. Faith is the solvent that sets you free.
— Shannon L. Alder
If chess has any relationship to film-making, it would be in the way it helps you develop patience and discipline in choosing between alternatives at a time when an impulsive decision seems very attractive.
— Stanley Kubrick
How much of human life is lost in waiting.
— Ralph Waldo Emerson
Perhaps you are just close to what you have been waiting for all along and ideas start formulating in your mind and advising you to "give up". Tell them "not me".
— Israelmore Ayivor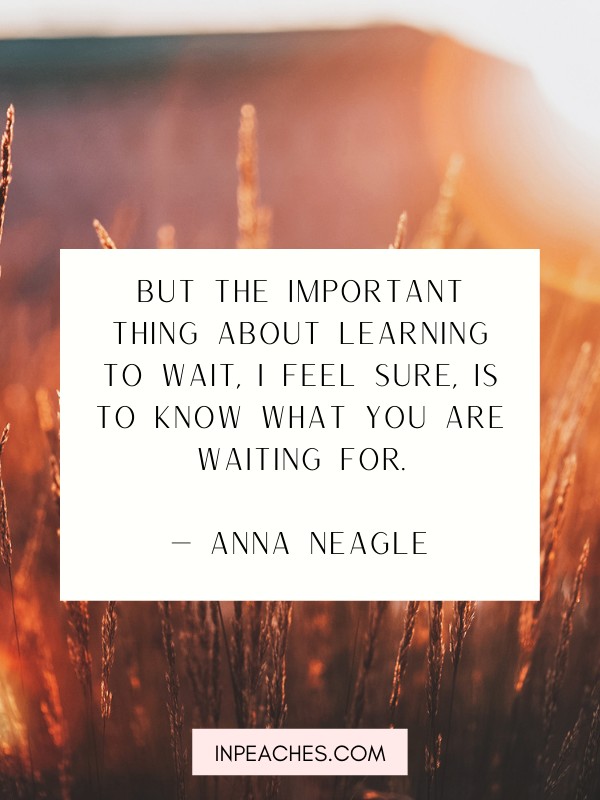 So much of control is not authoritative action but mindful waiting.
— Cameron Conaway
Don't be in a hurry. Everything arise in the due time.
— Lailah Gifty Akita
Which of these waiting quotes was your favorite?
MORE INSPIRATIONAL QUOTES FOR YOU TO ENJOY