A collection of inspiring memories quotes that'll transport you back in time and are perfect for your next Instagram caption.
Memories are valuable. They help shape you and mold you into becoming the person you are today.
Yes, often, memories can be bittersweet. They can fill us with so much joy, love, warmth, and laughter but they may also bring us tears, pain, and sorrow.
It's important to remind yourself that while you may have bad and painful memories, you must not let these destroy and outweigh your good, precious, and most treasured memories.
The memories that'll make you cry happy tears from laughing, memories that'll warm your heart and lift your spirits on tough times – keep treasuring these memories and keep them close in your heart.
We have gathered the best quotes about memories below from various sources. From friendship memories quotes to throwback memories quotes, unforgettable memories quotes, happy memories quotes, and short memories quotes that'll not only make you smile but are also perfect for your next Instagram caption.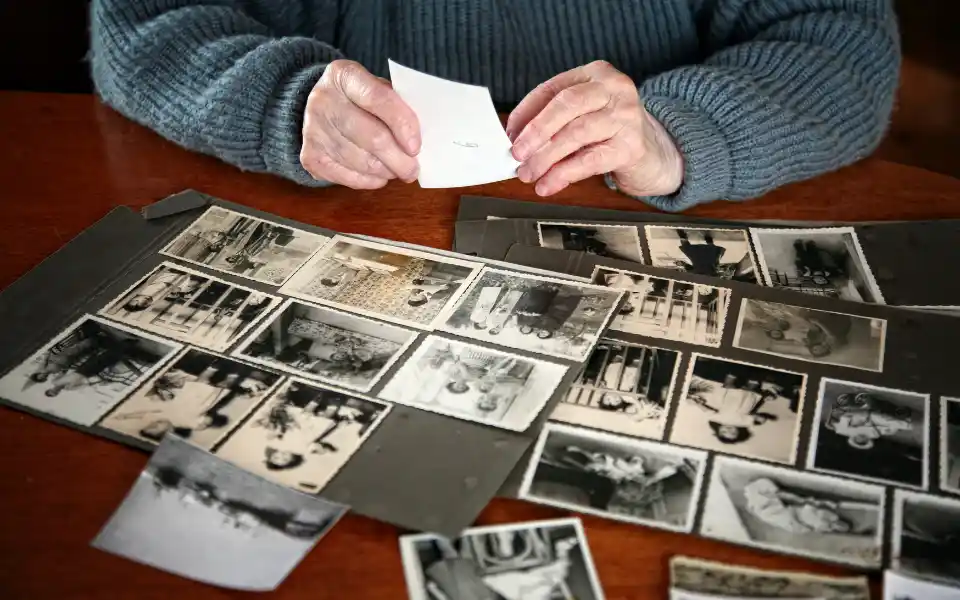 Memories Quotes and Sayings
The most beautiful things are not associated with money; they are memories and moments. If you don't celebrate those, they can pass you by.
— Alek Wek
Memories warm you up from the inside. But they also tear you apart.
— Haruki Murakami
Take care of all your memories. For you cannot relive them.
— Bob Dylan
The past beats inside me like a second heart.
— John Banville
We all have our time machines. Some take us back, they're called memories. Some take us forward, they're called dreams.
— Jeremy Irons
Humans, not places, make memories.
— Ama Ata Aidoo
Some memories are unforgettable, remaining ever vivid and heartwarming!
— Joseph B. Wirthlin
What i like about photographs is that they capture a moment that's gone forever, impossible to reproduce.
— Karl Lagerfeld
I believe that without memories there is no life, and that our memories should be of happy times.
— Lee Radziwill
Memories, important yesterdays, were once todays. Treasure and notice today.
— Gloria Gaither
No matter how much suffering you went through, you never wanted to let go of those memories.
— haruki murakami
My memories mean a lot to me, and I hold them close to my heart.
— Radhika Apte
The town was paper, but the memories were not.
— John Green
Memories are the best things in life, I think.
— Romy Schneider
For some life lasts a short while, but the memories it holds last forever.
— Laura Swenson
The worst part of holding the memories is not the pain. It's the loneliness of it. Memories need to be shared.
— Lois Lowry
He was still too young to know that the heart's memory eliminates the bad and magnifies the good, and that thanks to this artifice we manage to endure the burden of the past.
— Gabriel García Márquez
Unforgettable Memories Quotes
Memory is the diary that we all carry about with us.
The happiest memories are of moments that ended when they should have.
— Robert Brault
Some memories live forever, whether as a scar or a stain — they can't be wiped away.
— Radhika Raut
Our memories give us voice and bear witness to history, so that others might learn. So they might celebrate our triumphs and be warned of our failures.
— Mohinder Suresh
Isn't it funny how the memories you cherish before a breakup can become your worst enemies afterwards? The thoughts you loved to think about, the memories you wanted to hold up to the light and view from every angle–it suddenly seems a lot safer to lock them in a box, far from the light of day and throw away the key. It's not an act of bitterness. It's an act if self-preservation. It's not always a bad idea to stay behind the window and look out at life instead, is it?
— Allyson Braithwaite Condie
Experience had taught me that even the most precious memories fade with the passage of time.
— Nicholas Sparks
I have more memories than if I were a thousand years old.
— Charles Baudelaire
There are memories that time does not erase. Forever does not make loss forgettable, only bearable.
— Cassandra Clare
Sometimes you never know the value of a moment until it becomes a memory.
— Dr. Seuss
When our memories outweigh our dreams, we have grown old.
— Bill Clinton
Memory is the treasure house of the mind wherein the monuments thereof are kept and preserved.
— Thomas Fuller
Memories are like antiques, the older they are the more valuable they became.
— Marinela Reka
Sometimes, remembering hurts too much.
— Jess Rothenberg
You never realize what a good memory you have until you try to forget something.
— Franklin P. Jones
I could tell you it's the heart, but what is really killing him is loneliness. Memories are worse than bullets.
— Carlos Ruiz Zafón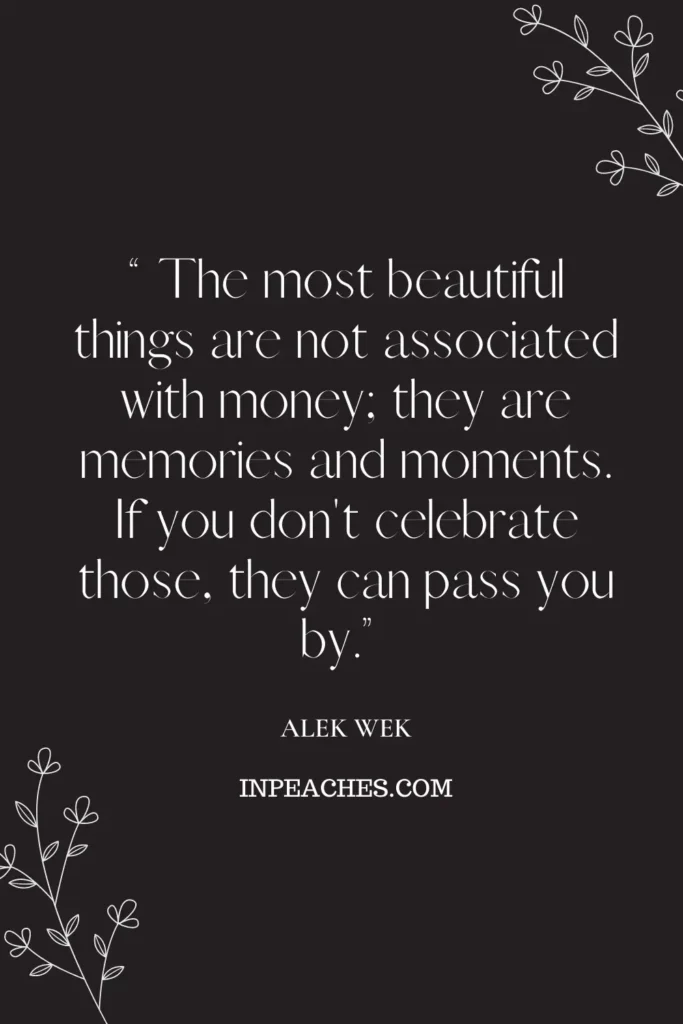 When we lose one we love, our bitterest tears are called forth by the memory of hours when we loved not enough.
— Maurice Maeterlinck
Memories, even your most precious ones, fade surprisingly quickly. But I don't go along with that. The memories I value most, I don't ever see them fading.
— Kazuo Ishiguro
We do not remember days; we remember moments.
— Cesare Pavese
Related Post:
Sweet Memories Quotes
Hold on to the things you are, the things you never want to lose.
— Kevin Arnold
The memories we make with our family is everything.
— Candace Cameron Bure
Memories are like a garden. Regularly tend the pleasant blossoms and remove the invasive weeds.
— Linda Fifer Ralphs
It's great to reminisce about good memories of my past. It was enjoyable when it was today. So learning to enjoy today has two benefits: it gives me happiness right now, and it becomes a good memory later.
— George Foreman
No one can ever take your memories from you – each day is a new beginning, make good memories every day.
— Catherine Pulsifer
True nostalgia is an ephemeral composition of disjointed memories.
— Florence King
Leftovers in their less visible form are called memories. Stored in the refrigerator of the mind and the cupboard of the heart.
— Thomas Fuller
Memories, even bittersweet ones, are better than nothing.
— Jennifer Armentrout
Your memory is the glue that binds your life together; everything you are today is because of your amazing memory. You are a data collecting being, and your memory is where your life is lived.
— Kevin Horsley
Memories of our lives, of our works and our deeds will continue in others.
— Rosa Parks
Memories are the key not to the past, but to the future.
— Corrie ten Boom
The finest memories are those where we have helped someone without expecting anything in return.
— Byron Pulsifer
Talking with pictures and making memories is universally appealing.
— Evan Spiegel
Memory is a record of your personal experience. It is a record of trial and error, defeat and success. Past failures will warn you against repeating them.
— Wilfred Peterson
The one thing I need to leave behind is good memories.
— Michael Landon
Memories, all those little experiences make up the fabric of our lives and on balance, I wouldn't want to erase any of them, tempting though it may be.
— Ben Affleck
If we can't make memories, we can't heal.
— Leonard Shelby
Inspirational Memories Quotes
Memories are the treasures that we keep locked deep within the storehouse of our souls, to keep our hearts warm when we are lonely.
— Becky Aligada
There comes a time in your life when you have to choose to turn the page, write another book or simply close it.
— Shannon L. Alder
Be careful who you make memories with.
Those things can last a lifetime.
— Ugo Eze
There are moments when I wish I could roll back the clock and take all the sadness away, but I have the feeling that if I did, the joy would be gone as well.
— Nicholas Sparks
Memories are contrary things; if you quit chasing them and turn your back, they often return on their own.
— Stephen King
People leave strange little memories of themselves behind when they die.
— Haruki Murakami
Memories are dangerous things. You turn them over and over, until you know every touch and corner, but still you'll find an edge to cut you.
— Mark Lawrence
When I was younger I could remember anything, whether it happened or not.
— Mark Twain
Sharing tales of those we've lost is how we keep from really losing them.
— Mitch Albom
Your memory feels like home to me.
So whenever my mind wanders, it always finds it's way back to you.
— Ranata Suzuki
You don't deserve my image in your head. You don't deserve my memories in your chest.
— Jamie Weise
Our memories give us voice and bear witness to history, so that others might learn. So they might celebrate our triumphs and be warned of our failures.
— Mohinder Suresh
Our memories are the only paradise from which we can never be expelled.
— Jean Paul Richter
Memories are bullets. Some whiz by and only spook you. Others tear you open and leave you in pieces.
— Richard Kadrey
Everybody needs his memories. They keep the wolf of insignificance from the door.
— Saul Bellow
Creating memories is a priceless gift. Memories will last a lifetime; things only a short-period of time.
— Alyice Edrich
In my life I find that memories of the spirit linger and sweeten long after memories of the brain have faded.
— Harry Connick Jr.
Nothing is ever really lost to us as long as we remember it.
— L.M. Montgomery
More Memories Quotes and Captions
I've learned that people will forget what you said, people will forget what you did, but people will never forget how you made them feel.
— Maya Angelou
Forgetting isn't enough. You can paddle away from the memories and think they are gone. But they will keep floating back, again and again and agian. They circle you, like sharks. Until, unless, something, someone? Can do more than just cover the wound.
— Sara Zarr
Life isn't a matter of milestones, but of moments.
— Rose Kennedy
Songs and smells will bring you back to a moment in time more than anything else. It's amazing how much can be conjured with a few notes of a song or a solitary whiff of a room. A song you didn't even pay attention to at the time, a place that you didn't even know had a particular smell.
— Emily Giffin
Happiness isn't something you experience; it's something you remember.
— Oscar Levant
Maybe memories should be left the way they are.
— Melina Marchetta
Time and space may separate us, but not the thoughts and memories that bind us.
— Ed Parker
People leave traces of themselves where they feel most comfortable, most worthwhile.
— Haruki Murakami
The best things in life come in threes, like friends, dreams, and memories.
— Mencius
The only real treasure is in your head. Memories are better than diamonds and nobody can steal them from you
— Rodman Philbrick
It happens to everyone as they grow up. You find out who you are and what you want, and then you realize that people you've known forever don't see things the way you do. So you keep the wonderful memories, but find yourself moving on.
— Nicholas Sparks
Memories are like moonbeams, we do with them what we will.
— Kevin Space
That's the problem with memories: you can visit them, but you can't live in them.
— Shaun David Hutchinson
Friends are the most important part of your life. Treasure the tears, treasure the laughter, but most importantly, treasure the memories.
— David Brenner
What are we, if not an accumulation of our memories?
— S.J. Watson
To have memories of those you have loved and lost is perhaps harder than to have no memories.
— Hugh Jackman
Even though our lives wander, our memories remain in one place.
— Marcel Proust
Which of these memories quotes was your favorite?
More inspirational quotes for you to enjoy