A collection of peaceful relaxing quotes that'll remind you of the importance of taking a break and inspire you to make time for relaxation and doing nothing.
In today's world, most of us are guilty of taking rest, sleep, and relaxation for granted.
We are constantly on the go. Constantly chasing deadlines, finishing tasks, going from one meeting to another, and checking things off our to-do list.
We fail to realize how crucial relaxing and taking a break is to our overall health, happiness and well-being.
Remind yourself that taking a break once in a while is needed for you to recharge your mind and soul and for you to come back stronger and more motivated.
May these quotes about relaxing below inspire you to take some time to do nothing and just relax.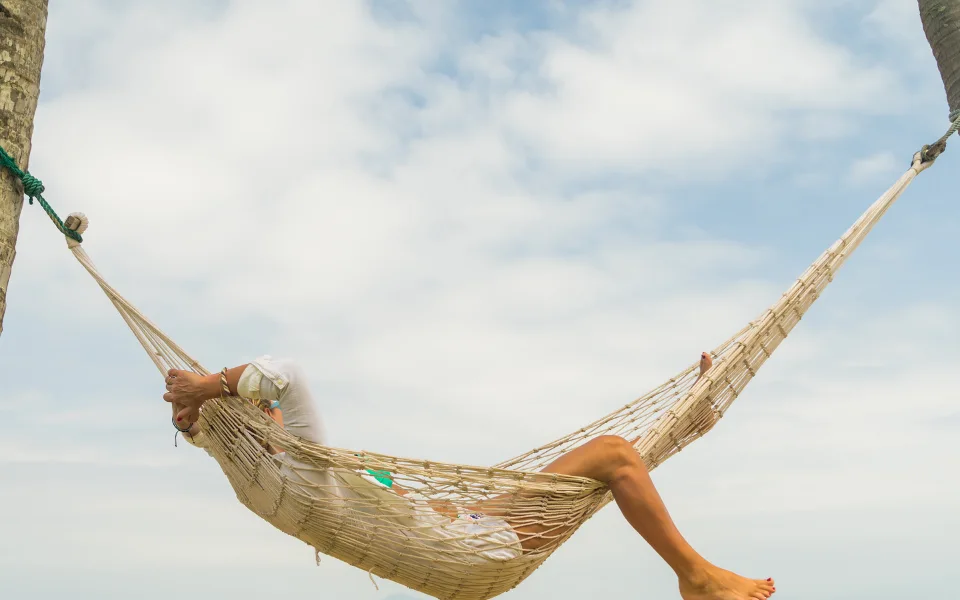 Relaxing Quotes and Sayings
Your mind will answer most questions if you learn to relax and wait for the answer.
— William S. Burroughs
A little nonsense now and then, is cherished by the wisest men.
— Anonymous
Relax! Life is beautiful!
— David L. Wolper
If you want to conquer the anxiety of life, live in the moment, live in the breath.
— Amit Ray
We need time to defuse, to contemplate. Just as in sleep our brains relax and give us dreams, so at some time in the day we need to disconnect, reconnect, and look around us.
— Laurie Colwin
It's a good idea always to do something relaxing prior to making an important decision in your life.
— Paulo Coelho
Don't make things too complicated. Try to relax, enjoy every moment, get used to everything.
— Angelique Kerber
I think best in a hot bath, with my head tilted back and my feet up high.
— Elizabeth Jane Howard
A holiday is an opportunity to journey within. It is also a chance to chill, to relax. It is when I switch on my rest mode.
— Prabhas
Work. Don't Think. Relax.
— Ray Bradbury
If you do what you love, it is the best way to relax.
— Christian Louboutin
Ah! There is nothing like staying at home, for real comfort.
— Jane Austen
I have so much chaos in my life, it's become normal. You become used to it. You have to just relax, calm down, take a deep breath and try to see how you can make things work rather than complain about how they're wrong.
— Tom Welling
Peaceful and Relaxing Quotes
Don't underestimate the value of doing nothing, of just going along, listening to all the things you can't hear, and not bothering.
— A.A. Milne
Put your thoughts to sleep, do not let them cast a shadow over the moon of your heart. Let go of thinking.
— Rumi
As important as it is to have a plan for doing work, it is perhaps more important to have a plan for rest, relaxation, self-care, and sleep.
— Akiroq Brost
Sometimes letting things go is an act of far greater power than defending or hanging on.
— Eckhart Tolle
Close your eyes and imagine you are lying down on an empty, warm, sandy beach. Hear the ocean waves crashing, seagulls singing. Feel the golden sun rays dancing in your hair. Take a deep breath and inhale the salty sea breeze. Exhale your worries.
— Sandi Duverneuil
Every now and then, go away, have a little relaxation, for when you come back to your work your judgment will be surer.
— Leonardo da Vinci
If you want to relax, watch the clouds pass by if you're laying on the grass, or sit in front of the creek; just doing nothing and having those still moments is what really rejuvenates the body.
— Miranda Kerr
Rest is not idleness, and to lie sometimes on the grass under trees on a summer's day, listening to the murmur of the water, or watching the clouds float across the sky, is by no means a waste of time.
— John Lubbock
It is both relaxing and invigorating to occasionally set aside the worries of life, seek the company of a friendly book…from the reading of 'good books' there comes a richness of life that can be obtained in no other way.
— Gordon B. Hinckley
Life isn't as serious as the mind makes it out to be.
— Eckhart Tolle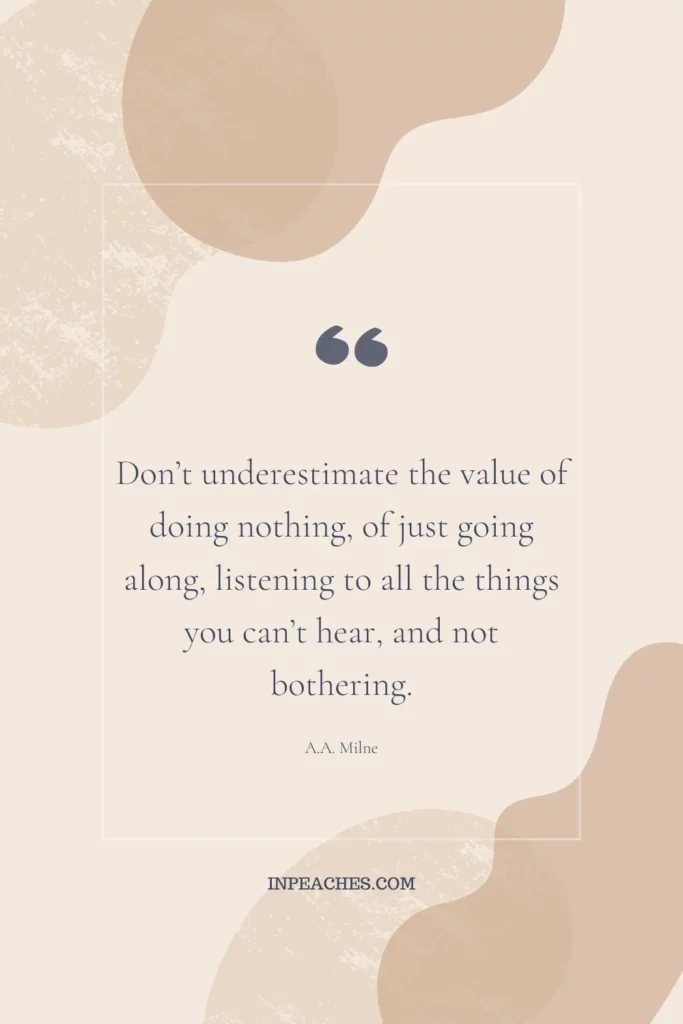 Learn to relax. Your body is precious, as it houses your mind and spirit. Inner peace begins with a relaxed body.
— Norman Vincent Peale
Your calm mind is the ultimate weapon against your challenges. So relax.
— Bryant McGill
The paradox of relaxation is the renewal of mind; rekindle of spirit and revitalize of strength.
— Lailah Gifty Akita
Related Post:
Relax and Unwind Quotes
The mind should be allowed some relaxation, that it may return to its work all the better for the rest.
— Seneca
Conscious breathing is my anchor.
— Thich Nhat Hanh
People choose to struggle when people don't want to relax. Sometimes it is not on your side. Relax; calm down. No matter how hard the waves are, you will float on the ocean.
— Kubra Sait
Tension is who you think you should be. Relaxation is who you are.
— Chinese Proverb
To have faith is to trust yourself to the water. When you swim you don't grab hold of the water, because if you do you will sink and drown. Instead you relax, and float.
— Alan Watts
When was the last time you spent a quiet moment just doing nothing – just sitting and looking at the sea, or watching the wind blowing the tree limbs, or waves rippling on a pond, a flickering candle or children playing in the park?
— Ralph Marston
I grind and I graft, but I will make sure that I get that time off here and there to unwind and relax and have a life.
— Tulisa
It is requisite for the relaxation of the mind that we make use, from time to time, of playful deeds and jokes.
Sometimes I wish that I could go into a time machine right now and just look at my self and say, 'Calm down. Things are gonna be fine. Things are gonna be all great. Just relax.'
— Tristan Wilds
Take rest; a field that has rested gives a bountiful crop.
— Ovid
I like to go to places where you can relax a little after you're done working.
— Ming Xi
It is necessary to relax your muscles when you can. Relaxing your brain is fatal.
— Stirling Moss
I have gotten better at saying to myself, 'Relax and just take this moment in. Appreciate it for what it is.'
— Chris Carmack
Relaxation means releasing all concern and tension and letting the natural order of life flow through one's being.
— Donald Curtis
Relaxing Quotes To Find Peace
Sometimes the most urgent and vital thing you can possibly do is take a complete rest.
— Ashleigh Brilliant
The ability to relax and be mindfully present in the moment comes naturally when we are grateful.
— Louise Hay
There is virtue in work and there is virtue in rest. Use both and overlook neither.
— Alan Cohen
There is more to life than increasing its speed.
— Mohandas Gandhi
Rest when you're weary. Refresh and renew yourself, your body, your mind, your spirit. Then get back to work.
— Ralph Marston
Give your stress wings and let it fly away.
— Terri Guillemets
If a man insisted always on being serious, and never allowed himself a bit of fun and relaxation, he would go mad or become unstable without knowing it.
— Herodotus
Slow down and everything you are chasing will come around and catch you.
— John De Paola
Just breathing can be such a luxury sometimes.
— Walter Kirn
Only when you are relaxed can you see what's going on.
— Jane Campion
The time to relax is when you don't have time for it.
— Sydney J. Harris
Difficult roads often lead to beautiful destinations. The best is yet to come.
— Zig Ziglar
The end of labor is to gain leisure.
— Aristotle
More Calming Quotes About Relaxing
Taking breaks isn't about cheating yourself, it's about treating yourself.
— Curtis Tyrone Jones
He enjoys true leisure who has time to improve his soul's estate.
— Henry David Thoreau
Relax, Recharge and Reflect. Sometimes it's OK to do nothing.
— Izey Victoria Odiase
Man is so made that he can only find relaxation from one kind of labor by taking up another.
— Anatole France
As you work, rest.
— Adeyemi Taiwo Eunice
Take the next 24 hours and just relax with the knowing that everything is okay. Let go of the stress and worry for one day and see what happens.
— Mike Basevic
A massage is just like a movie, really relaxing and a total escape, except in a massage you're the star. And you don't miss anything by falling asleep!
— Elizabeth Jane Howard
The most honest questions come out of people while they're relaxed.
— A.D. Aliwat
Taking time out each day to relax and renew is essential to living well.
— Judith Hanson Lasater
Whenever you feel down, take a long walk in nature.
— Michael Bassey Johnson
I relax my body completely, relax my mind completely, and then imagine myself at a level where anything can happen.
— Richard Bach
Most nights you'll find me swinging in the hammock of the moon, sipping the night black, a few stars as sugar cubes.
— Curtis Tyrone Jones
Sometimes it's important to work for that pot of gold. But other times it's essential to take time off and to make sure that your most important decision in the day simply consists of choosing which color to slide down the rainbow.
— Douglas Pagels
Which of these relaxing quotes was your favorite?
More inspirational quotes for you to enjoy