A collection of powerful be kind to yourself quotes to inspire you to practice self compassion and accept and love yourself unconditionally!
Most of us are guilty of being hard on ourselves. We constantly beat ourselves up for every mistake, failure, and shortcomings.
We criticize ourselves for being flawed that we end up hating ourselves.
You must remember that you also deserve love, patience, understanding, and forgiveness – you deserve to give all these things to yourself.
Constantly criticizing yourself will not do you any good. It will only make you feel bad, keep you unhappy and make you believe that you are not enough.
It's time to stop with the negative self-talk, let go of negativity and learn to treat yourself with love and respect.
Why is it important to learn to be kind to yourself?
When you practice self compassion, you're not only improving your self confidence but you are also allowing yourself to grow and achieve your full potential.
These inspirational quotes below about being kind to yourself will empower and inspire you to give yourself the love and respect that you certainly deserve.
65 INSPIRING BE KIND TO YOURSELF QUOTES
Be kind to your body, gentle with your mind and patient with your heart. Stay true to your spirit, cherish your soul and never doubt yourself. You are still becoming, my love, and there is no one more deserving of the nurturing grace of your love.
— Becca Lee
Your inner child is waiting for a genuine, heartfelt apology.
— Yong Kang Chan
You're going to make it;
You're going to be at peace;
You're going to create, and love, and laugh, and live;
You're going to do great things.
— Germany Kent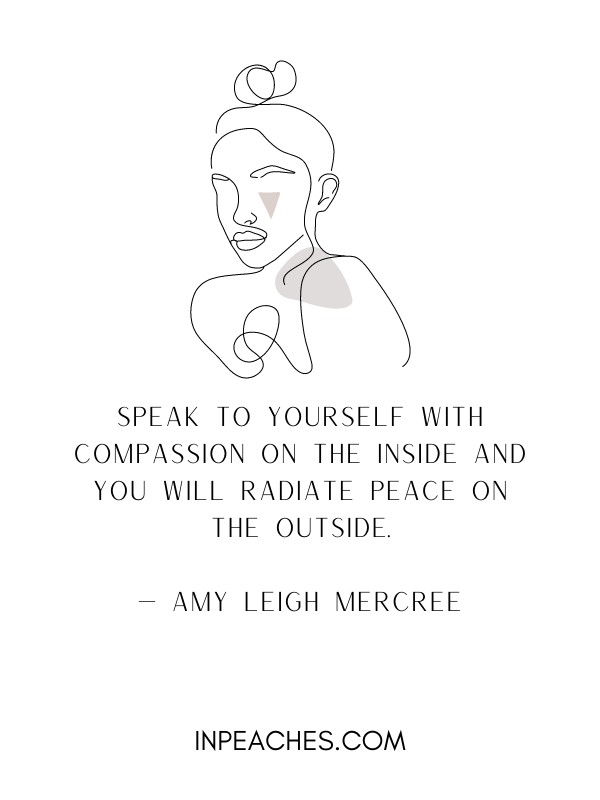 Be patient with yourself; trust in the Universe; find mentors; know that you can achieve whatever you set out to do.
— Diane L. Dunton
Be kind to yourself, it's the best medicine to heal and grow.
— Aziz Farheen
…trust in what you know, be patient with yourself, and take things one step at a time.
— Melissa Steginus
Respect, Love, and Value yourself. Always remember to be good to yourself by taking care of yourself. Make yourself a priority and know that it's okay. Don't feel guilty for loving yourself, first! You're just as important as anybody else.
— Stephanie Lahart
Go above and beyond for yourself! You do it for family, friends, and colleagues, but don't forget about YOU. It's important to include yourself… You are worthy of your own kindness, too!
— Stephanie Lahart
One thing is for sure—you will make mistakes. Learn to learn from them. Learn to forgive yourself. Learn to laugh when everything falls apart because, sometimes, it will.
— Vironika Tugaleva
The most important progress and success can't be seen. If you can validate yourself internally, then external validation becomes a byproduct.
— Brittany Burgunder
When admiring other people's gardens, don't forget to tend to your own flowers.
— Sanober Khan
Self-criticism, on the other hand, is anathema to self-compassion. Once we learn to stop judging ourselves, we can look upon our lesser talents with compassion.
— Karen Rinaldi
Taking time to relax every day, spending quality time with friends, and practicing mindfulness are some of the tried and tested ways of developing self-compassion.
— Dr Prem Jagyasi
When you look in the mirror, smile at your own kindness.
— Richelle E. Goodrich
To be nobody-but-yourself — in a world which is doing its best, night and day, to make you everybody else — means to fight the hardest battle which any human being can fight.
— e.e. cummings
Don't forget to appreciate yourself.
— Debasish Mridha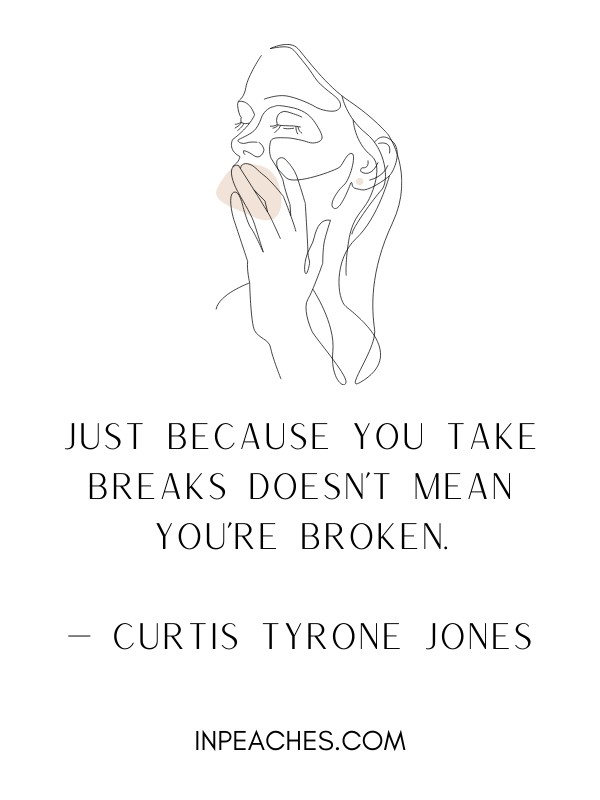 Learn to be kind to yourself. Let your mind free, close your eyes, breathe deeply and remain calm. Life is majestic and meaningful enough.
— Shaa Zainol
You are a work in progress. Give yourself the space and grace for improvements.
— Germany Kent
The greatest rebellion is loving yourself in a world trying to sabotage your light.
— Nikki Rowe
Stop constantly burning the candle at both ends , or you will eventually be reduced to ashes.
— Christine E. Szymanski
You find a use for everything. Yet you discard yourself at every opportunity.
— Amanda Cox
RELATED INSPIRATIONAL QUOTE POSTS:
Self-compassion is simply giving the same kindness to ourselves that we would give to others.
— Christopher Germer
Always remember to give yourself the kindness, compassion and consideration you give to others.
— Miya Yamanouchi
Love yourself. Forgive yourself. Be true to yourself. How you treat yourself sets the standard for how others will treat you.
— Steve Maraboli
With mindfulness, loving kindness, and self-compassion, we can begin to let go of our expectations about how life and those we love should be.
— Sharon Salzberg
BE GOOD TO YOURSELF QUOTES
… you always seem to think you have to change, you think you have to improve yourself, to be like everyone else, to fit in, but can't you see you're perfect just the way you are?
— Rebecca Raisin
Self-compassion is like a muscle. The more we practice flexing it, especially when life doesn't go exactly according to plan (a frequent scenario for most of us), the stronger and more resilient our compassion muscle becomes.
— Sharon Salzberg
What if no one is coming to discover your hidden talents, to acknowledge your untapped potential, to heal you, to save you from yourself? What if the saviour was always supposed to be you? What if that's why it hasn't worked out with anyone else?
— Vironika Tugaleva
Negative self-talk costs more than even the richest person can afford. So be nice to yourself whenever possible and know that it is always possible.
— Dough Pedersen
Respect, Love, and Value yourself. Always remember to be good to yourself by taking care of yourself. Make yourself a priority and know that it's okay. Don't feel guilty for loving yourself, first! You're just as important as anybody else.
— Stephanie Lahart
Stop beating yourself up for beating yourself up.
— Eleanor Brownn
This is a moment of suffering. Suffering is part of life. May I be kind to myself in this moment. May I give myself the compassion I need.
— Kristin Neff
Practice self-compassion and experience the priceless feeling of emotional safety.
— Amy Leigh Mercree
Have the courage to love yourself like you always wished someone would.
— Vironika Tugaleva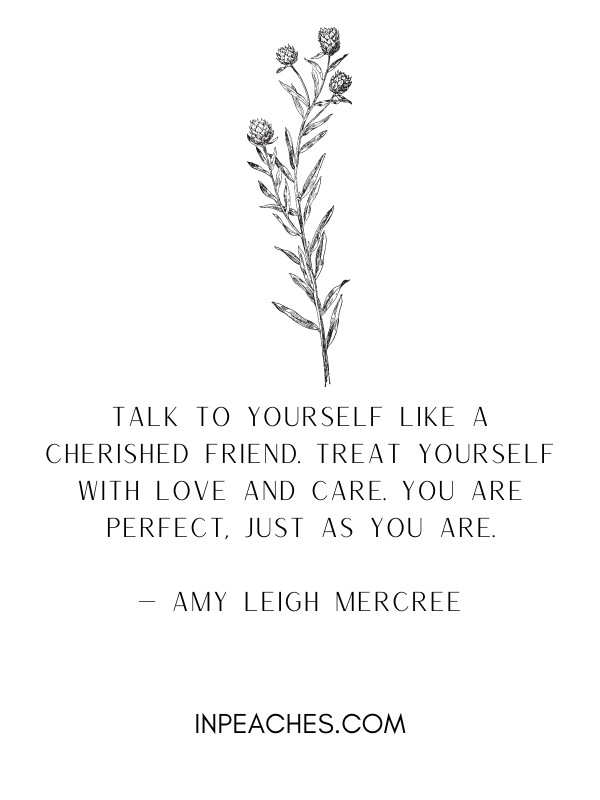 There is lot of conversation about self love nowadays, but how can we love ourselves if we do not consider ourselves worthy (we condemn ourselves, punish ourselves, sabotage ourselves, criticise ourselves, and constantly judge and devalue ourselves)?
— Danijela Jokic Vaislay
Remember you have been criticizing yourself for years and it hasn't worked. Try approving of yourself and see what happens.
— Louise L Hay
Relax your heart and let go into the infinite ocean of love within you.
If you are someone who tends to ruminate, or who suffers from anxiety and depression, it's important that you don't judge yourself for this way of being.
— Kristin Neff
Be kind to yourself so that you can be happy enough to be kind to the world.
— Misha Collins
Be nice to yourself. It's hard to be happy when someone is always mean to you all the time.
— Christine Arylo
Self-love is about slipping up, having the bad days and loving ourselves despite of them, forgiving ourselves and, most importantly, having compassion for ourselves and how we're feeling. So, give yourself permission to fall down, but don't give yourself permission to stay there.
— Saskia Lightstar
Find the light within you through meditation and introspection, and you will illuminate your life from within.
— Amy Leigh Mercree
whatever you do
be gentle with yourself.
you don't just live
in this world
or your home
or your skin.
you also live
in someone's eyes.
— Sanober Khan
BE NICE TO YOURSELF QUOTES
Accept yourself, love yourself, and keep moving forward.
— Roy Bennett
Peak performance happens when we feel loved and supported from within.
— Amy Leigh Mercree
Those who mistrust their own abilities are being too wicked to themselves, discouraging themselves from doing what they should have been excelling in. If you are good at discouraging yourself, you can't be a good leader because leadership is built on inspiring others to face challenges.
— Israelmore Ayivor
The power of self-kindness can help us to heal our chronic shame and self-loathing. In a world that is often mean-spirited and cruel, a daily practice of kindness and warm-heartedness can make all the difference.
— Christopher Dines
Speak to yourself with compassion on the inside and you will radiate peace on the outside.
— Amy Leigh Mercree
You're already stuck with yourself for a lifetime. Why not improve this relationship?
— Vironika Tugaleva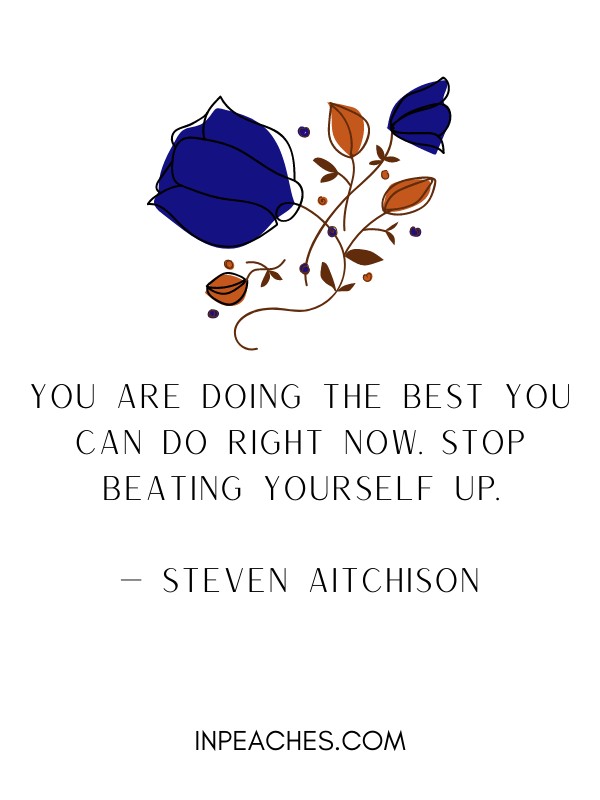 Knowing how to be solitary is central to the art of loving. When we can be alone, we can be with others without using them as a means of escape.
— Bell Hooks
For us to feel good emotionally, we have to look after ourselves.
— Sam Owen
Drop the people who do not value you, respect you. Life has infinite horizons. Accept yourself, love yourself, and move forward.
— Amit Ray
Just because you take breaks doesn't mean you're broken.
— Curtis Tyrone Jones
It's a funny thing about life, once you begin to take note of the things you are grateful for, you begin to lose sight of the things that you lack.
— Germany Kent
Talk to yourself like a cherished friend. Treat yourself with love and care. You are perfect, just as you are.
— Amy Leigh Mercree
MORE INSPIRATIONAL QUOTES ON BEING KIND TO YOURSELF
Stay true to yourself. An original is worth more than a copy.
— Suzy Kassem
Finally, be kind to yourself and have a good support system.
— Nikki DeLoach.
To be beautiful means to be yourself. You don't need to be accepted by others. Accept yourself.
— Thich Nhat Hanh
Each moment of self-honesty builds intimacy, trust, and compassion. The more you look, the more you'll love.
— Vironika Tugaleva
Transform your world by transforming your internal state. Start by learning to let go of negative self judgment, and replace it with positive and loving thoughts about yourself. Be kind to yourself, and watch your external world change.
— Anita Moorjani
Encourage yourself, believe in yourself, and love yourself. Never doubt who you are.
— Stephanie Lahart
You are not an option, a choice or a soft place to land after a long battle. You were meant to be the one. If you can wrap yourself around the idea that you are something incredible, then you will stop excusing behavior that rapes your very soul. You were never meant to teach someone to love you. You were meant to be loved.
— Shannon L. Alder
If you do not respect your own wishes, no one else will. You will simply attract people who disrespect you as much as you do.
— Vironika Tugaleva
You are doing the best you can do right now. Stop beating yourself up
— Steven Aitchison
Your inner critic is simply a part of you that needs more self-love.
— Amy Leigh Mercree
Which of these be kind to yourself quotes inspired and resonated with you the most?
Practicing self compassion and learning to be kind to yourself is not something that can be done overnight. It's not a straight path. It's a journey and it's something that you have to practice and choose to do every single day.
Remind yourself constantly that you are more than enough and you deserve love, forgiveness, and respect.
MORE INSPIRATIONAL QUOTES FOR YOU TO ENJOY