These inspiring fire quotes will help spark the fire within you and ignite your soul.
Depending on how you look at it, fire can either be something positive or negative. It's a powerful tool that can destroy or cleanse the world and our inner selves.
It can also be a powerful metaphor for our inner strength and passion for the things that we love. It can refer to our determination, courage, and perseverance to go after what we want and make our dreams a reality.
Regardless of how you define it, these quotes about fire will surely inspire you.
HERE ARE 60+ INSPIRATIONAL FIRE QUOTES AND QUOTES ABOUT FIRE
Each of us is born with a box of matches inside us but we can't strike them all by ourselves
— Laura Esquivel
The finest steel has to go through the hottest fire.
— Richard M. Nixon
She's mad, but she's magic. There's no lie in her fire.
— Charles Bukowski
Discipline is the refining fire by which talent becomes ability.
—Roy L. Smith
The fire you kindle for your enemy often burns yourself more than them.
— Chinese Proverb
The mind is not a vessel to be filled but a fire to be kindled.
— Plutarch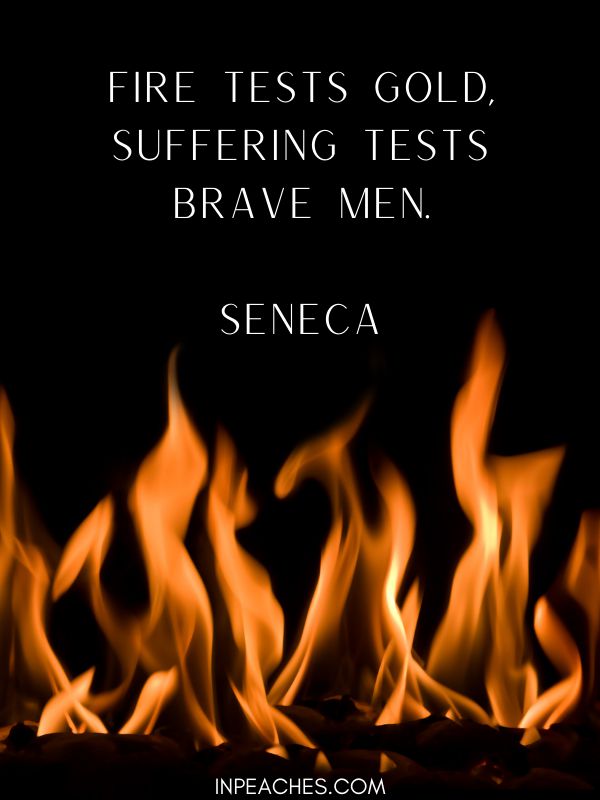 Keep a little fire burning; however small, however hidden.
— Cormac McCarthy
Fire is the test of gold; adversity, of strong men.
— Martha Graham
There may be a great fire in our soul, yet no one ever comes to warm himself at it, and the passers-by see only a wisp of smoke.
The sky broke like an egg into full sunset and the water caught fire.
— Pamela Hansford Johnson
There is no fire like passion, there is no shark like hatred, there is no snare like folly, there is no torrent like greed.
— Siddharta Gautama
We feel free when we escape – even if it be but from the frying pan to the fire.
— Eric Hoffer
Tradition is not the worship of ashes, but the preservation of fire.
— Gustav Mahler
Time is the fire in which we burn.
— Gene Roddenberry
The world's flattery and hypocrisy is a sweet morsel:
eat less of it, for it is full of fire.
Its fire is hidden while its taste is manifest,
but its smoke becomes visible in the end.
— Rumi
Success isn't a result of spontaneous combustion. You must set yourself on fire.
— Arnold H. Glasow
Fire tests gold, suffering tests brave men.
— Seneca
My passion and fire run deep through my veins, my blood, there's no doubt about that.
— Carolyn Aronson
Set fire to the broken pieces; start anew.
— Lauren DeStefano
The most powerful weapon on earth is the human soul on fire.
— Ferdinand Foch
RELATED INSPIRATIONAL QUOTE POSTS:
INSPIRING FIRE QUOTES AND SAYINGS
Big fires flare up in a wind, but little ones are blown out unless they are carried in under cover.
— St Frances De Sales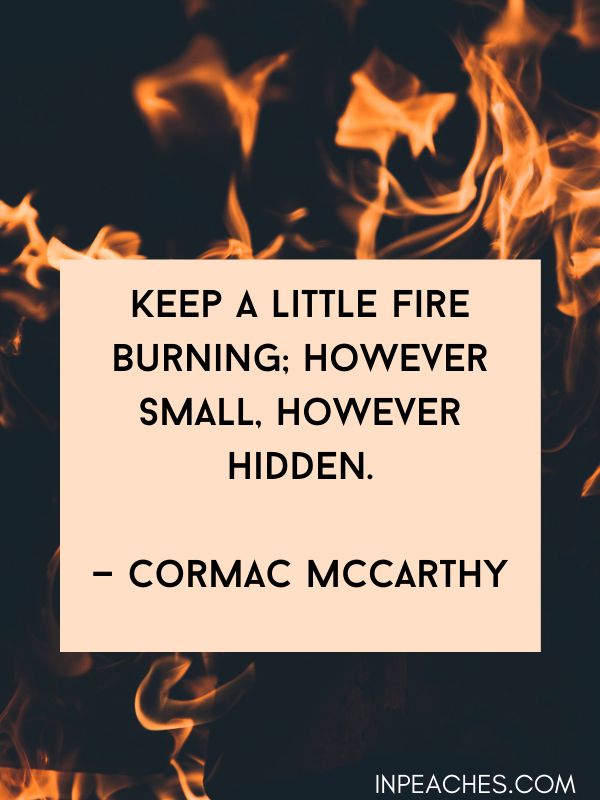 Among the notable things about fire is that it also requires oxygen to burn – exactly like its enemy, life. Thereby are life and flames so often compared.
— Otto Weininger
Fire in the heart sends smoke into the head.
— Proverb
Fire, water, and government know nothing of mercy.
— Proverb
Anger is like fire. It burns all clean.
— Maya Angelou
If you play with fire, you're gonna get burned.
— Bam Bam Bigelow
A spark neglected makes a mighty fire.
— Robert Herrick
Just as a candle cannot burn without fire, men cannot live without a spiritual life.
— Buddha
The hero and the coward both feel exactly the same fear, only the hero confronts his fear and converts it into fire.
— Cus D'Amato
One of the strongest characteristics of genius is the power of lighting its own fire.
— John Foster
The only real security is the ability to build your own fires and find your own peace.
— Audrey Sutherland
Most people guard against going into the fire, and so end up in it.
— Rumi
It takes two flints to make a fire.
— Louisa May Alcott
Fire that's closest kept burns most of all.
— William Shakespeare
A thought often makes us hotter than a fire.
— Henry Wadsworth Longfellow
The difference between a good life and a bad life is how well you walk through the fire.
— Carl Jung
Light up the fire of love inside and blaze the thoughts away.
— Rumi
Where there is smoke there is fire.
— Proverb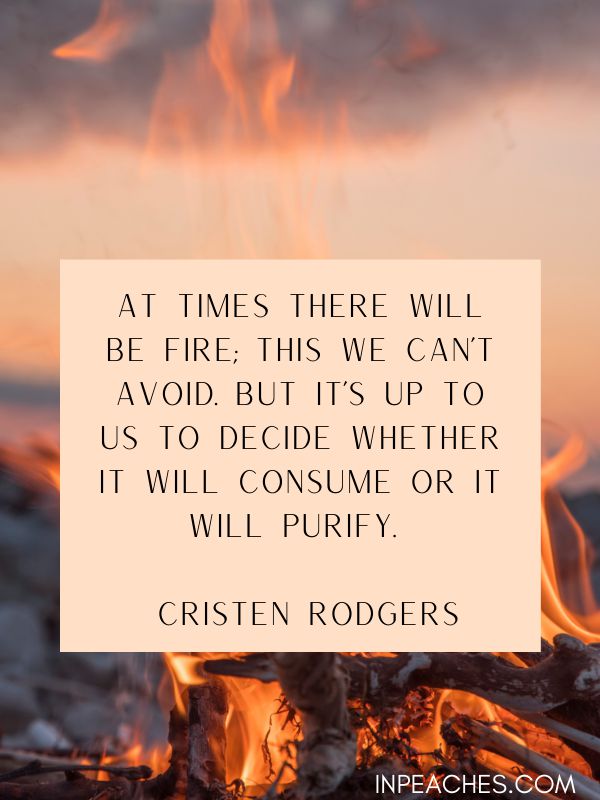 Each person shines with his or her own light. No two flames are alike. There are big flames and little flames, flames of every color. Some people's flames are so still they don't even flicker in the wind, while others have wild flames that fill the air with sparks. Some foolish flames neither burn nor shed light, but others blaze with life so fiercely that you can't look at them without blinking, and if you approach you shine in the fire.
— Eduardo Galeano
Wise anger is like fire from the flint; there is a great ado to bring it out; and when it does come, it is out again immediately.
— Matthew Henry
Fire will attract more attention than any other cry for help.
— Jean-Michel Basquiat
Motivation is like fire unless you keep adding fuel to it, it dies. Your fuel is your belief in your inner values.
— Unknown
As soon go kindle fire with snow, as seek to quench the fire of love with words.
— William Shakespeare
Fire is never a gentle master.
— Proverb
MORE QUOTES AND SAYINGS ABOUT FIRE
Always remember that your calmness under fire is your best defense in any argument or discussion.
— Robert Greene
Fire is a natural symbol of life and passion, though it is the one element in which nothing can actually live.
— Susanne Katherina Langer
Do not let your fire go out.
— Ayn Rand
Love is friendship that has caught fire. It is quiet understanding, mutual confidence, sharing and forgiving. It is loyalty through good and bad times. It settles for less than perfection and makes allowances for human weaknesses.
— Ann Landers
The fires of suffering become the light of consciousness.
— Eckhart Tolle
Have a dream, chase it down, jump over every single hurdle, and run through fire and ice to get there.
— Whitney Wolfe Herd
Catch Fire, Do Something, Get Excited by Finding Your Purpose In Life.
— Steve Harvey
Here's to Love, the only fire against which there is no insurance.
— William Young Stafford
The most tangible of all visible mysteries – fire.
— Leigh Hunt
The fire is the main comfort of the camp, whether in summer or winter, and is about as ample at one season as at another. It is as well for cheerfulness as for warmth and dryness.
— Henry David Thoreau
Friends are like coals in a fire – together, they glow; apart, they grow cold.
— C. S. Lewis
Ability without ambition is like kindling wood without the spark.
— Unknown
At times there will be fire; this we can't avoid. But it's up to us to decide whether it will consume or it will purify.
— Cristen Rodgers
When the winter comes, fire becomes a king.
— Mehmet Murat Ildan
To feel the love of people whom we love is a fire that feeds our life.
— Pablo Neruda
Heat makes things expand; that is why life sometimes throws us into a fiery furnace.
— Matshona Dhliwayo
The deepest lessons come out of the deepest waters and the hottest fires.
— Elisabeth Elliot
Encouragement is a fire of flame. It refreshes the soul and revives the spirit.
— Lailah Gifty Akita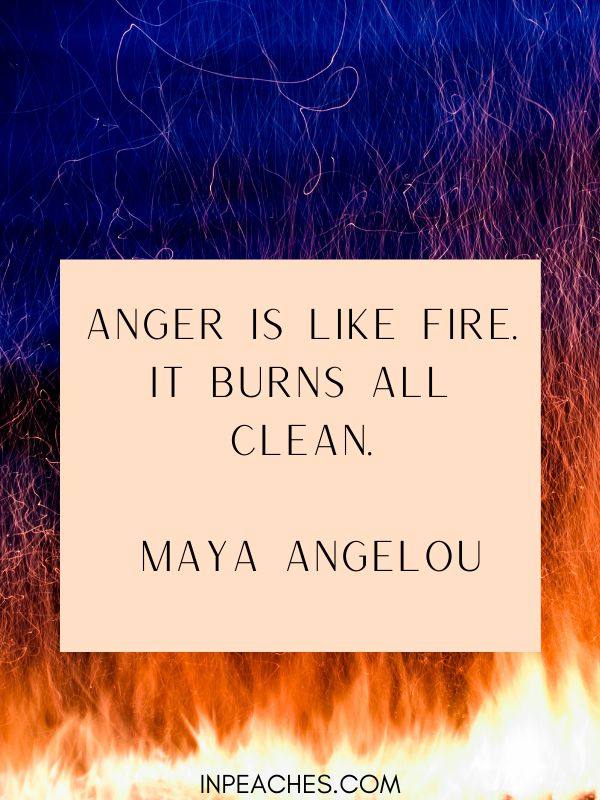 Man is so made that when anything fires his soul, impossibilities vanish.
— Jean de La Fontaine
Since the house is on fire let us warm ourselves.
— Italian Proverb
I am building a fire, and everyday I train, I add more fuel. At just the right moment, I light the match.
— Mia Hamm
Remind me that the most fertile lands were built by the fires of volcanoes.
— Andrea Gibson
Which of these fire quotes resonated with you the most?
MORE INSPIRATIONAL QUOTES FOR YOU TO ENJOY